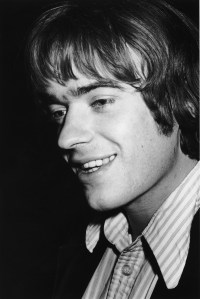 On Monday night, I was on 10th Avenue talking to the biological granddaughter of Brooklyn literary lioness Paula Fox. I asked her if she read Martin Amis. "I like Money," said Courtney Love, sitting on a bench and smoking a cigarette outside a film premiere after-party. "I like John Self in Money," she said. "I don't relate to John Self, though. He's a very bad man." Ms. Love had no opinion about the fact that Mr. Amis is moving this summer to Brooklyn.
Mr. Amis is that rare literary scion who may have outstripped his laurelled father–Kingsley Amis, the author of Lucky Jim. Arriving in 1974 with The Rachel Papers, a roman à clef about love in late adolescence, Mr. Amis was the enfant terrible of the erstwhile Angry Young Man. He toiled at the Times Literary Supplement and The New Statesman, where he met his friend and rival Christopher Hitchens, before achieving escape velocity from day jobs. After the triumphs of Money, London Fields and The Information, the British press shuddered that the son, who had inherited his father's satiric gifts but wrote novels with a wider thematic scope, was now more famous than the father. The reception of Mr. Amis' books in the past decade has been mixed, but his every utterance tends for better or worse to constitute an international event, often on a weekly basis.
He was almost as precocious and soon just about as famous as Norman Mailer, and his love life was nearly as storied as Mailer's, if never so violent. There was the dedicatee of The Rachel Papers, Gully Wells, now an editor at Condé Nast Traveler. There was Tina Brown: "The love affair with Tina Brown was a love affair …" Mr. Amis wrote in his 2000 memoir Experience, "but it was over too soon, as if something much longer had been compressed into six or seven months." We know what became of her. There was his lost daughter Delilah Jeary, who only learned Mr. Amis was her father at age 18. There have been two marriages, and four more children.
'I don't know if I ever will become a New Yorker,' said Amis.
And so Mr. Amis and his wife, the author Isabel Fonseca, are coming to Cobble Hill. And what's it like being a writer in Brooklyn? "I expect it's like writing in Manhattan," Colson Whitehead once wrote in The New York Times, "but there aren't as many tourists walking very slowly in front of you when you step out for coffee." More likely, there are other writers walking in front of you. It's a zone of infestation. Not only of novelists but reporters, pundits, poets and those often closeted scribblers who call themselves editors and agents. Not to mention bloggers, or whatever counts for being an online writer these days.
They all compete for the same advances, freelance fees and salaries. They enable each others' drinking habits and wreck each others' marriages. And you're always liable to bump into one of them when you're out to buy a pomegranate or a pack of cigarettes. Throw a dart across the barroom and you might poke one. They're like bedbugs with bylines, and there'll soon be a new bug in town, who might just be the biggest bug of all.
"To some degree I have emulated him," said Jennifer Egan, author of A Visit from the Goon Squad, which won this year's National Book Critics Circle Award and Pulitzer Prize. "I find his sense of humor so fantastic and extreme. It's something I've made a bit of a study of."
Ms. Egan belongs to the slice of the Brooklyn literati that has just entered its prime. The book contracts are steady and robust. The glossy assignments come so easily they can be comfortably turned down. Some of these writers can even afford sports cars.
Of Mr. Amis' move to Brooklyn, Ms. Egan, who lives in Fort Greene, told The Observer, "It seems like good karma."
"When I moved to Brooklyn 21 years ago I knew one person and it was a strange, stigmatized thing for me to have done," said Kurt Andersen, the novelist and radio host who, no matter what he's up to, will always be able to say that he founded SPY (now available in its entirety free on Google Books). "I'm happy it's lost its stigma." Mr. Amis, he said is "icing on the cake of the cool kids moving to Brooklyn.
"If anything, to the degree that Brooklyn has become known as a place where there's a writer every 50 feet, this is just a further certification of that."
Certification is not something of much value in the writing trade. An M.F.A. doesn't get you anywhere if you can't write well or finish a book. For those still starving while striving for that first book advance or magazine contract, Mr. Amis could stand as a towering example.
"Martin Amis is exactly who we've all been waiting for," said Starlee Kine, a journalist and prominent radio personality at work on her first book in Williamsburg, where she lives next door to Henry Miller's childhood home. "And if there was ever a neighborhood that could use someone like Martin Amis, it's Cobble Hill."
"But oh God," she said, "what I am not looking forward to are the articles–not this one–but, you know, the Times Modern Love column where some Cobble Hill person befriends him at the gardening store. That's going to be a nightmare. But I like to think that he will take it all in stride, and then in three years a book will come out that will be a perfect send-up of the neighborhood and it will capture it in a way that no American novel could, and then there will be a q-and-a between him and Jonathan Franzen where they will have to compare their critiques of gentrified American neighborhoods."