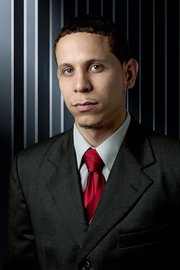 Colin over at the Brooklyn Politics points us to the fact that it appears as if Darryl Towns has already resigned his Assembly seat and assumed the post of commissioner of New York Homes and Community Renewal without so much as a word of congratulations from Cuomo administration.
No date for a special election has been set, but add another name to the list of potential candidates to replace him: Jesus Gonzalez, a community organizer with Make the Road New York.
If Gonzalez throw his hat into the ring, he would likely be joined by Rafael Espinal, a 26-year-old chief of staff to City Councilmember Erik Dilan and Deidra Towns, the sister of the outgoing Assemblyman and the daughter of longtime area Congressman Ed Towns. The Perez Notes recently reported that the Towns family may run John Rodriguez as a spoiler in an effort to split the Hispanic vote.
In a brief interview, Mr. Gonzalez, 26, declined to reveal much about his background or his timetable for throwing his hat into the ring.
"I have been working in this community for13 years and I have been working to uplift this community," he said. "This seems like an opportunity where I can take it to the next heights."
He added, "I have proven my commitment to this community by community organizing."
According to neighborhood sources, if he ran, Mr. Gonzalez would have the backing not only of Make the Road, a sizable social service and advocacy organization, but the Working Families Party as well.
A Facebook page dedicated to his campaign can be found here.
The Democratic nomination for the special election will be determined by the County Committee, which is currently under the control of the Dilans. Other candidates have to petition their way onto the ballot via third-party lines.