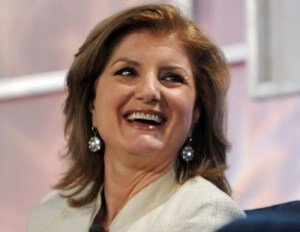 On her blog yesterday Arianna Huffington had a long response to Jonathan Tasini's class-action lawsuit suing her for lack of payment, which in essence, is that the former Congressional/Senate candidate is "utterly cynical."
I'm looking at the proof of it right now: multiple emails (now collected in a legal file) Tasini has sent to me and the HuffPost blog team over the years, extolling the virtue and value of blogging on HuffPost. In one, he gushes over HuffPost's ability to create buzz and drive traffic to his website. In another, he enthuses over the fact that theNational Journal picked up and linked to one of his HuffPost blog posts. In a third, he recommends a friend who would like to blog on our site. Then there is an exchange over the treats he has sent to our blog editors to thank them for their help.

So, without a shadow of a doubt (legal or otherwise), Tasini understood and appreciated the value of having a post on HuffPost — and was only too happy to use our platform's ability to get his work seen by a wider audience and raise his profile when he was running for office.
Huffington quotes everyone from Reason Magazine to Jack Shafer to a UCLA law professor to dismiss Tasini's suit, and then faults him for comparing himself and his fellow unpaid bloggers to "slaves."
"[Tasini] changed his mind… and that instead of providing a boost to his career and political aspirations, posting on our site was actually just like being a slave on a plantation (I wonder if slaves ever sent thank-you treats to their masters)," she writes.
This afternoon Tasini posted his own response, in which he said that Huffington is acting out of fear.
"She fears that her "brand" will drown in a pool of hypocrisy-a "liberal/progressive" exposed as a fraud, as an exploiter of people no different than the Waltons of Wal-Mart, Goldman Sachs or Rupert Murdoch," he writes, " At least, the Waltons or Murdochs or other similar corporate leaders are honest-they make no bones about their political views or their willingness to exploit people for profit and fuel an unrelenting class warfare."
Mostly though Tasini doesn't focus on the merits of the case, focusing instead on the need for bloggers to unite, ending his post with "Organize. Today."