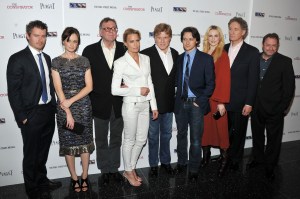 On Monday evening to celebrate an at long last sunny afternoon, New Yorkers gathered at MoMA for the premiere of Robert Redford's historical courtroom drama, The Conspirator, starring James McAvoy and Robin Wright Penn. Freshly shaven legs and flirty skirts prevailed as guests glided down the escalators towards the subterranean theater. All the stars in the film were in attendance, including Alexis Bledel in shimmering Oscar de la Renta and Evan Rachel Wood in batwing sleeves.
Julian Schnabel arrived in his signature navy silk pajamas with girlfriend Rula Jebreal and daughter, Stella. Jebreal and Schnabel sat behind Bob Balaban who, before taking his seat, stood leaning over his seat to chat with the Miral director.
Supermodel and Lem Lem designer, Liya Kebede, tall and regal wandered down both aisles seeking the perfect seat, passing designer, Chris Benz, the sideburns of whose neon pink hair blended seamlessly into in his rosy cheeks.
Arizona Muse was forced to sit all the way up near the front of the large theater due to her late arrival and lack of saved seating. At the after party at the nautically renovated Royalton Hotel, the model du moment wandered around with an appetizer plate sprinkled with grilled vegetables and a copy of the Anna Wintour-covered WSJ Magazine tucked under her right arm. Somewhat incongruously, guests arriving at the Royalton were greeted by two pieces of posterboard propped up on display easels. On the left, the poster for the film featuring a time-pockmarked stone statue of President Lincoln, on the right the bob-centric Anna Wintour profile shot from the most recent issue of the WSJ Magazine (The Wall Street Journal and Piaget were the evening's sponsors).
Derek Blasberg arrived with Dree Hemingway in a Stella McCartney citrus dress and after a brief interlude inside stepped back onto the sidewalk to share a cigarette break passing Mario and Maria Cuomo in the entryway posing for photographs with Mr. Redford and Billie Jean King.
-cmalle@observer.com