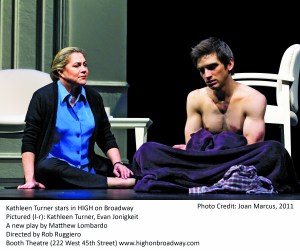 Thank God for Kathleen Turner. I say this not just because she plays a woman of God, a foulmouthed nun, in her new star vehicle High. No, I thank God for Ms. Turner because without her measured, commanding and utterly compelling performance as Sister Jamison Connelly in this melodrama about addiction, religion and redemption, sitting through High would be like sitting through an ABC After School Special.
That's not quite fair: The production that opened at the Booth Theatre last night is also blessed with two other fine performances and a beautiful, minimalist, occasionally haunting staging by Rob Ruggiero. But its cliché-ridden script would be rejected even by Lifetime, unless perhaps Meredith Baxter was attached.
Sister Jamie works in a Catholic rehab facility, where, we're told, she typically counsels good husbands who drink too much and good kids who pop pills to help them study. Jamie knows her stuff: She became a nun late in life; before that, she was a rebellious girl-turned-alcoholic, and she can't entirely shake her old ways. She occasionally relapses, and her boss, Father Michael (a characteristically good Stephen Kunken, given little to do), helps cover for her.
Father Michael, naturally, has secrets of his own–an addict sister he didn't help when he could have, and an addict nephew, her son, who may or may not have killed another boy. Michael compels Sister Jamie to treat the boy, to keep him out of jail. And so arrives a young, addicted gay hustler named Cody, put immediately into Jamie's care.
Cody (the newcomer Evan Jonigkeit, who is impressive even in the scenes when he keeps his pants on), naturally, has his own secrets, and he (naturally) challenges Jamie, causing her to reevaluate her preconceived ideas and (still naturally) reminding her of crises in her past. Mr. Jonigkeit is intense and surprisingly convincing as the young addict who doesn't care if he gets clean and doesn't care if he lives.
Unfortunately, neither the plot–so many convenient secrets! So much obvious melodrama!–nor the dialogue is remotely convincing. ("And who knows," Father Mike says to Jamie when he tells her about Cody. "You might even learn something from this one.")
The playwright Matthew Lombardo, who explains in a note distributed to the press that he based his script on his own recovery from addiction, plainly means High to be about the power of transformation, of faith, of believing in miracles. But it doesn't come close. Instead, like his campy Tallulah Bankhead romp Looped last season, it ends up being about the power of a bravura leading lady to at least somewhat salvage a mediocre piece of writing.
Looped opened and closed in a month last year. If High does much better, I'll believe in miracles.
"To my misfortune, I'm not homosexual," the venerable critic John Simon once sniped on Charlie Rose. "And therefore I'm a kind of odd man out in the theatrical world, and sometimes I feel a bit aggrieved about that." I have a different cross to bear than does Mr. Simon, but it can leave me no less aggrieved: My misfortune–and it's one I was born with, one that apparently separates me from the vast majority of theatergoers–is that I'm not an animal person.
The Royal National production of War Horse, a smash hit in the West End that's been anticipated in New York with panting enthusiasm, arrived last week at Lincoln Center Theater, where it received a largely drooling response.
War Horse tells the story of a British farm boy and his beloved equine, and how their idyllic if impoverished existence is upended by World War I. It involves gorgeously realized life-size horse puppets by the Handspring Puppet Company, each manipulated to stunning effect by a trio of actors. It also, almost incidentally, involves some human actors–more than a few not quite as supple as those horse puppets. They tell a by-the-numbers tear-jerker of a story about the horrors of war, the magic of noble beasts and the power of a boy's faith.
There has been praise for the staging, which is indeed spectacular, and for the story, which is almost unbearably trite. (Directors Marianne Elliott and Tom Morris are magicians to have taken something so banal and rendered it so beautifully.) Moments before the horse, Joey, and the boy who reared him, Albert, are to be inevitably reunited in a French field hospital–Joey is about to be put down after a run-in with barbed wire; Albert, mere feet away and pining for his trusty mount, has been temporarily blinded by a tear-gas attack–a soldier draws his weapon, preparing to put the horse out of his misery. There were gasps from the audience, as if there was any doubt a happy ending was coming. This is a play for animal people.
It's too bad the story is so sadly simplistic, because Ms. Elliott's and Mr. Morris' stagecraft is so sublime. This play is full of literally breathtaking moments of theatrical inventiveness and stunning visuals–Joey and his fellow horses; a cavalry charge on the front; even the small, witty touch of an overeager goose on Albert's farm, a puppet on a bicycle wheel pushed by an actor.
But, for all that, War Horse is based on a children's story, and it remains no more emotionally complex. Not long into the second act, the tedium of the predictable story begins to weigh more heavily than the thrill of the visual creativity.
That's when you realize you're watching the cloying tale of a boy with an unnatural love for a half-thoroughbred.