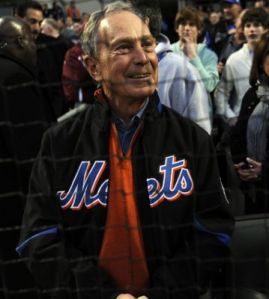 Over the last decade in the City Council, Lew Fidler has been one of Mayor Michael Bloomberg's chief antagonists, tangling with the city's chief executive over everything from his cuts to homeless youth to his bike lanes to his tax policy, calling the mayor an emblem of arrogance and insensitivity.
Well, apparently, bygones are bygones and it is a new era at City Hall, as Councilman Fidler will be the mayor's guest at the New York Mets' home opener today at Citi Field, the Councilman confirmed.
So, is this the new, friendlier face of Mayor Bloomberg, trying to reach out to enemies after the Cathie Black fiasco? For what it is worth, Fidler was quoted in The New York Times front-page story today about Black, accusing the administration of not properly vetting her or thinking her appointment through.
But the mayor may have some more practical concerns as well. Fidler remains the front-runner to take the place of State Senator Carl Kruger, when (if?) the embattled legislator steps down. City Hall News recently reported that Fred Kreizman, a Bloomberg aide, is also considering a run. With 'Last In, First Out,' and a host of other city needs coming before Albany, Mayor Bloomberg may be trying to smooth things over with someone who may soon have a big say in how the rest of Bloomberg's tenure shakes out.
UPDATE:
Fidler calls to speculate on why he was chosen to watch the game with the mayor:
"I assume the mayor, not being the biggest baseball fan, needed the Council's foremost Mets expert to guide him through the game," he said, adding that he can recite the entire line-up from the 1962 New York Mets.
"I was as surprised as anyone" about the invitation, he added.