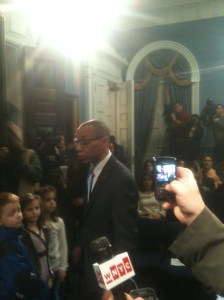 In a Q-and-A with reporters after his announcement that Dennis Walcott was in and Cathie Black was out as schools chancellor, Mayor Michel Bloomberg explained some of his thinking around the decision.
"Cathie and I had a conversation this morning. We both agreed that the story had become her and it should be about the students," Mayor Bloomberg said. "And this is the right thing to do. We both agreed, as did Joel Klein when I talked to him that this is the right person to take us forward and we are going to look forward. We are going to continue the reforms. We have made enormous progress over the last nine years. Sometimes it's been two forward and one back but in the real world that's what you do and we are going to continue to be as aggressive as we can and to do deal with a fiscal situation that I think people don't understand how serious it is."
When pressed on the decision to bring Black aboard, Bloomberg repeatedly said that he was determined to look forward. He even cut off a question from veteran newsman Stan Brooks who asked if the Black decision was a mistake.
"I just told you," he snapped. "We decided it was time to look forward."
When asked why he didn't just choose Walcott the first time around, Bloomberg responded, "Because I picked somebody else. You could make that case with Joel Klein or anybody else. You pick the people you think are going to make a big difference."
Walcott, who greeted Mayor Bloomberg with a fist bump on his way to the lectern, will require a waiver from the state, just as Black did, in order to become chancellor. The state had required Black to appoint a "chief academic officer" in charge of pedagogy in order for her to become chancellor. Bloomberg said that the chief academic officer would remain in place.
Plus, he added that no one will take Walcott's spot as first deputy mayor for education. Walcott will perform both jobs, reporting directly to Mayor Bloomberg, but will stay at the lower salary level of a deputy mayor.