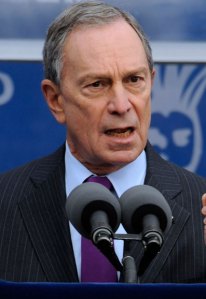 Mayor Mike Bloomberg said that Manhattan Borough President Scott Stringer was wrong to hold a "rat invasion" presser today where the BP called for the city to beef up its ranks of pest control inspectors.
"The city is doing a great job as a matter of fact," the mayor shot back to a reporter who asked him about the press conference. "It's a question of how you look at the numbers. It is true that complaints for rats went up something like one and a half percent. It's also true that complaints for everything go up something like five, six, ten percent on 311 because more people start to use it. That doesn't mean the problem is any worse. I think the problem probably is a lot better."
According to the Health Services union, rodent complaints are up by 9 percent.
Stringer, who was joined by City Council member Ydanis Rodriguez, called on the city to restore cuts to the Dept. of Mental Health and Hygiene which led to the termination of 63 pest control workers.
Bloomberg rejected this idea, saying that by properly strategizing the city could properly withstand the cuts. He noted that DMHH is now going after whole neighborhoods rather than individual lots.
"We are doing the right thing and unfortunately some of the elected officials just aren't as informed as I would like them to be," he said "If they realized what we were doing they would be big supporters. We are going to continue doing what we are doing. In the areas where we have focused our efforts I think the number of rats are down like a third, which is amazing progress."
And Bloomberg seemed to have a special message for Stringer about the role of a mayor–a job that the BP covets.
"The job is not to shove as many inspectors out there costing us as much money as you can," Bloomberg said. "The job is to do what the public needs and do it as efficiently as you can. So we are not spending more money to do something, we are spending, I hope, less money and getting better results. That is what you are supposed to do. Anybody can spend more money."