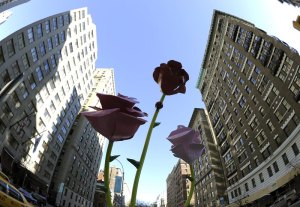 For decades, Brooke Astor's duplex at 778 Park was the pinnacle of New York City living. This had much to do with the society queen and her courtiers, who hosted lavish parties there, but also with the 16-room home, boasting six terraces and a renowned red-lacquered library. That was before the wallpaper began to peel and the red lacquer to chip; before people talked of appliances that dated to years before Astor moved there in 1959. Before it allegedly became a prison for Astor at the hands of her son, Anthony Marshall. Before Mr. Marshall's trial in 2009, and the Lehman collapse the year before that.
It took two years and two staggering price cuts, from $46 million to $24.5 million, before Swiss currency speculator Daniel Forcart came around in December and signed a contract for the duplex. The price was $19.9 million.
Pretty much everywhere else in the world, this deal would have closed by now. But not in the world of New York City co-operatives. The board balked for reasons that remain unclear, whether because Mr. Forcart did not have the proper social credentials or the right price. It is impossible to know, because, like all other co-op boards, the one at 778 Park need not disclose its reasons for rejection. This, along with a handful of other nasty turns at buildings around the city, has brokers grumbling that co-ops are more intrusive and cockier than ever.
"It's an antiquated system not suited to modern life in a cosmopolitan city," Douglas Elliman's Raphael De Niro complained over coffee on Hudson Street recently.
During the real estate boom, condos colonized the city. Glassy spires shot up everywhere from Harlem to Brighton Beach, and dour old hotels were spruced up in bare-knuckled conversions (think the Plaza and the Stanhope). Even with tens of thousands of new apartments in the city, the buyable housing stock shifted only about 10 percent, from four co-op units for every condo to a ratio of three to one. With white flight running in reverse, yuppies and BroBos, along with their fashionably enlarging broods, swept across the boroughs in search of permanent housing. Thanks to all the new condos, it became easier than ever to avoid the onerous boards and their anvil application packages. And, best of all, those probing, embarrassing interviews.
As a result, some co-op boards, growing jealous of their chintzy brethren across the park or downtown, loosened their collars. New neighbors, ones who not so long ago would have been seen as "those people," who would have been lucky to be shown the apartment, let alone get an interview, found themselves with entree to some of the city's nicer buildings. This may not have been the case at the tippy-top, but brokers certainly say there was a relaxation of standards, not least because there was just so much money floating around. If letting some riffraff in meant your home was worth 10 times what you bought it for a decade ago, why not!
Then the music stopped, the panic set in, and this rarefied world teetered on the brink of collapse. Many of the city's co-op boards became stricter than ever before, requiring bigger down payments, more escrow and higher renovation fees. Picky, picky, picky. "Many of these buildings require a certain lifestyle, and you just couldn't have people sneaking their art and antiques out the service door just to afford the maintenance," said Mary Ellen Cashman of Stribling.
Yet there was also a countervailing force. As the fortunes, monetary and otherwise, of those in the coveted prewars continued to dwindle, some had no choice but to try and liquidate the homes they had worked so hard to get into. Many boards would never have allowed such things, damaging as a fire sale would be to their home values. With the power to set prices in their buildings, and the ability to reject at will, few boards thought twice about turning down buyers deemed to be paying too little, even as the sellers squirmed.
As this anxiety grew, there were also cases where boards relaxed their standards. After all, for a time in 2008 and 2009, it looked like the sky might never stop falling. Sure, boards were still fussy as ever regarding financial credentials–you've got only 10 times the price in liquid assets?–but the "panache" of the buyer, as one broker put it, was less relevant for once.
"Certain buildings are nervous, certain people were desperate," said A. Laurance Kaiser IV of Key Ventures. "And once those people get on the board, they're the worst of all! 'It's my candy store, and you can't have any of it.' The hypocrisy of it all."
And there is the rub. Now that the economy has begun to recover, and buyers are rushing the market once again, boards feel less desperate. They feel empowered–downright vicious, even. They can play a little catch and release, if the fish is not the perfect whopper. This, combined with the fact that co-ops have yet to loosen their still-spooked, post-Lehman financial rigor, means it is becoming more difficult than many brokers can remember to get their buyers past boards.
And it is not just the aerie likes of the Astor duplex. Consider the two brothers from an impeccable family, both recent London School of Economics grads. They had taken to a quirky penthouse duplex a block from the High Line in West Chelsea and gone to contract in December for $3 million, just over the asking price. Even though it was an all-cash offer, the buyers were never interviewed, and it took until April for the board to get around to telling them they would not be getting one.
It was the first time the buyers' broker had a client turned down in seven years–until it happened again later that week. "These are two very clean-cut, together young men, and if the board had seen that, I'm sure it would have changed their mind," the broker said. "Instead, all they saw was the application. All they saw was two 20-something guys who wanted to buy a penthouse in Chelsea and party all the time."
Yet for all the complaining New Yorkers do about co-op boards, this power grab could be their death rattle. Two bills are in the works at the City Council that would greatly curtail their authority. Intro 188, the "Fair Cooperative Procedure Law," which seeks to regulate the application process and require a yay-or-nay decision within 45 days, has members and representatives of the all-volunteer army up in arms.
"I have heard boards say that they don't have enough time to review the package and meet the buyers and deal with all of the building issues and still work their day jobs and spend time with their families, so they are just going to require that the brokers make certain that the buyers are qualified," Stuart Saft, president of the Council of New York Cooperatives and Condominiums, wrote in an email. "It will be very interesting to see this play itself out. The boards seem to think that is the least the brokers should do considering that they are getting a $150,000 commission on $2,500,000 apartments." (And not only work and family, but those summers in the Hamptons and the holidays throughout!)
The Real Estate Board of New York, under pressure from its large broker membership, has recently flipped on the legislation. "There is the issue of the lack of a response, and I don't know if it's a big issue that happens very often, but if you get enough brokers together, it starts to sound like it," said Michael Slattery, senior vice president at the board. "If you've provided the information and gone through the interview, there is a sense you should be told up or down."
The board's support could finally push the bill, which has been kicking around the Council for a few years, out into the open for some debate–though it is not clear whether it would pass, and there is still a good deal of work to be done on it. As the bill's sponsor, Lew Fidler of Brooklyn, put it, "The bill needs to be tightened up in some areas and loosened in others."
The legislation that is far more controversial, and has only mixed support in the real estate community, is the "Fair and Prompt Co-op Disclosure Law," Intro 326. It requires co-ops to do the unthinkable: provide a written response outlining a board rejection.
"Does every corporation have to do this?" Corcoran broker Eileen Roberts said. "I would be in favor of that only if every business had to disclose every decision it made. Why should a housing corporation be treated any different?"
The bill surfaced before, in 2006, but never got very far amid widespread opposition. It has been taken up now by Brownstone Belt City Councilman Brad Lander, after he was notified by a cadre of civil rights groups. They argue that discrimination is still rampant in the city's co-ops. By forcing boards to spell out their decision, Mr. Lander hopes they might think more deeply about why they are rejecting a prospective neighbor. "It's a very simple bill," Mr. Lander said. "We're not changing the standards. It is still illegal to discriminate–just now you would have to discriminate and lie if you wanted to do it." He acknowledged that he only has the support of "a large group of civil rights groups" and a smattering of boards. "But I think they can be very persuasive on this issue."
Still, what if it were not about equal rights but really all part of some grand conspiracy by the brokers, to disembowel the co-op system simply so they can sell more apartments and make more money?
"It would make a huge difference," Mr. De Niro, the Douglas Elliman broker, said. "First, they wouldn't be able to turn down so many deals. And it would provide more information on what to put in front of them and what not to. You assume you have a slam dunk, and the next thing you know, everyone's wasted six months of their lives."
Some brokers blame their colleagues and not the boards. "Only a dodo would show everyone every single apartment," Mr. Kaiser, one of the city's most veteran co-op brokers, said. "You have to know where to take your client." Another broker said that a "silly bill" is not going to make anyone a better broker.
Others are ambivalent, so long as the bill does not hurt the cachet of the co-ops themselves. "I tell everyone we should embrace the co-op system, love it," Warburg's Richard Steinberg said. "It is the one thing, more than any other, that saved us from turning into Miami, because there were far fewer speculators."