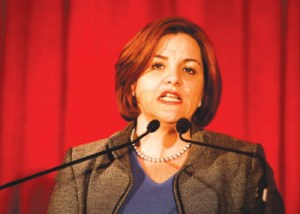 A reader passed along the following invitation from Council Speaker Christine Quinn for a fundraiser hosted by the New York Building Congress and construction magnate Frank Sciame.
The Building Congress is made up of all the players in the real estate development industry–unions, contractors, constuction firms and the like– and is one of the most powerful political players in the state. The fundraiser is another instance of the difficult tightrope Quinn has to walk in order to become mayor. While real estate money can easily help fill campaign coffers, taking too much of it leads to the inevitable campaign season charge that a certain candidate is "beholden to the real estate industry."
Either way, this one won't be cheap. Minimum suggested contribution is $1,000.