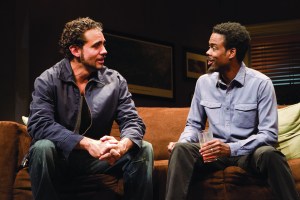 "Leave the gun," Jackie, the volatile, recovering-addict ex-con at the center of The Motherf**ker With the Hat, is told halfway through the play. "Take the empanadas."
It's a throwaway line, but a sharp and clever one: exactly right for the moment; a riff on The Godfather, another work about New Yorkers on the edges of mainstream society, updated for today's Latin-inflected outer boroughs. It's emblematic of the sharp, gritty new play by Stephen Adly Guirgis that opened at the Gerald Schoenfeld Theatre Monday night.
The Motherf**ker With the Hat is something you don't see on Broadway much: a tough and fresh portrait of working-class life in modern, multicultural New York.
In the capable hands of director Anna D. Shapiro, who won the Tony two seasons ago for her work on August: Osage County, it is another funny, tragic story about strained relationships, focusing on Jackie (a fantastic Bobby Cannavale, explosive and funny); his girlfriend since the eighth grade, Veronica (an equally excellent Elizabeth Rodriguez); and his twelve-step sponsor, Ralph D.–they're all talky, all self-conscious, all screwed up.
Ralph D. is played by Chris Rock, and his presence is why the show is on Broadway. You can understand what attracted Mr. Rock to the part: Ralph is a fun, foul-mouthed character, a man deeply dedicated to the recovery movement and also aware that he's a salesman peddling bullshit.
"I'm an asshole, bro," he tells Jackie. "And so are you. Who else but a couple of real fucking assholes would end up messing their lives up so bad that they had to go to meetings all the time, and pray, and be honest, and do all that bullshit because if they didn't they'd be fucking dead in a year? So, yeah, we're fucking assholes, but it's O.K. Hence–yoga. And hey, I may be an asshole, but I'm fucking limber bro."
It's funny stuff, and Mr. Rock knows his way around a bit. Unfortunately, he doesn't really know his way around acting, or at least around stage acting. While he's far from terrible, he also never makes Ralph D. persuasively a character rather than just a comic mouthpiece.
But, then, there are far worse comic mouthpieces than Chris Rock. We cannot change the reality that big stars are needed to get a new drama produced, but at least here we can accept it with serenity.
Frank Abagnale Sr., the small-time wheeler-dealer who raises his son to become the suave and shockingly successful con-artist star of Catch Me If You Can, imparts a triptych of advice to Frank Jr.: "Misdirection. Maintain eye contact. Keep talking."
It's the recipe for pulling off a successful con, and the makers of the Broadway-musical version of Catch Me, which opened Sunday night at the Neil Simon Theatre, follow the dictum mercilessly. But all the relentlessly forced good cheer in this musical–a self-aware variety show that argues Frank Jr.'s scams were just another kind of showbiz–can't quite mask the sad truth that what they're selling is a dud.
And it's such a disappointment. In the works for six years, Catch Me is the second Broadway musical from the brilliantly hilarious Marc Shaiman and Scott Wittman, the couple who wrote the songs for Hairspray and the South Park movie and just about every good musical bit you've ever seen on a modern television awards show. The talent involved is prodigious: It's directed by Jack O'Brien, who directed Hairspray, and it's choreographed by Jerry Mitchell, with a book by Terrence McNally and sets and costumes by David Rockwell and William Ivey Long.
It stars Norbert Leo Butz, one of the funniest and most winning leading men working in musicals today, as the F.B.I. agent Carl Hanratty, and Aaron Tveit, whose powerful voice and matinee-idol smile well position him to be Broadway's next young star, as Frank Jr.
And yet the whole enterprise manages to feel lifeless.
It's an eye-catching production, to be sure, with laughs and bouncy songs. But the problem is the script, a true story–you know it from the 2002 Spielberg movie–that simply doesn't lend itself to the stage.
The fun of the movie was watching Frank Jr. get away with his scams; the detailed work of faking identities and forging checks; and the equally detailed attempts by Hanratty to keep track of his quarry. But that's a story for close-ups. For the broad strokes of a musical and the big space of a Broadway theater, the creators necessarily had to abandon that granularity and instead focus on emotion.
And there's no emotional complexity here. Frank Jr. just wants human connection and his father's respect. Hanratty just wants human connection and any respect. And so it goes, over and over, sung about and spoken of, for two and a half hours. There's a dull sameness to everything onstage.
Worst, Mr. Butz's natural sly exuberance is kept squelched through virtually the entire show, as he's forced to play an unfunny doofus. He only gets to let loose in one first-act number and then again in the finale. That finale is the first time in the show he, or anyone else, looks like they're genuinely having fun.
It's either because they think they've pulled one over on us or because they're relieved they can finally stop trying to.