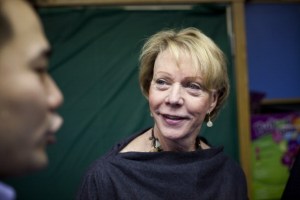 Cathie Black doesn't sound particularly upset about not being schools chancellor, one day after her surprise ouster by Mayor Bloomberg.
"I feel fine," she told Fortune magazine in her first remarks since a brief interview outside her apartment building yesterday. Black said she received a standing ovation when she got up to leave her local diner this morning.
On the steep learning curve she faced in education after a career in publishing, she said: "It was like having to learn Russian in a weekend — and then give speeches in Russian and speak Russian in budget committee and City Council meetings."
"If I were a guy, would I have had the pounding that I did?" she wondered in response to a question about whether she faced a "glass cliff" for women.
"And the worst pictures!" she said.
Black said there are other opportunities out there, but she's in no hurry.