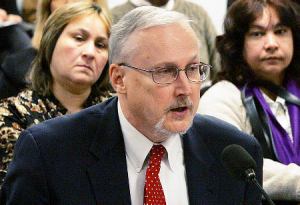 Children's Aid Society CEO Richard Buery and Councilwoman Annabel Palma have stepped up to defend John Mattingly, Commissioner of the Administration for Children's Services, who has recently been widely criticized following the death of a four-year-old girl under his agency's supervision.
Marchella Pierce died last September of child abuse syndrome, and the both the ACS welfare worker assigned to her case and his supervisor have since been arrested and charged with criminally negligent manslaughter. Brooklyn D.A. Charles Hynes is still out for blood, and Councilman Oliver Koppell called earlier today for Mattingly's resignation.
"Rather than a misguided call for the removal of Commissioner Mattingly," said Palma, who chairs the city council's General Welfare Committee, "We should be advocating for increased help for our City's children and families- including better mental healthcare, substance abuse services, and jobs that are often the source of a family's struggles."
Buery, however, places blame for the ACS's shortcomings on recent budget cuts to the city agency, saying that Mattingly has offered "strong, consistent guidance."
"I disagree with recent calls for Commissioner Mattingly's resignation," he said. "These calls scapegoat the head of ACS instead of confronting the systemic challenges involved in protecting children from abuse. Not the least of these challenges has been the public underinvestment in child protective services."
Buery added that a recent analysis of budget cuts at ten city agencies found that ACS suffered a 26.4% budget cut, compared to the fire department and police department, each of which received a cut of roughly six percent.
"The bravery of child welfare workers is often not seen in the same light as the bravery of our law enforcement, emergency, or military personnel-yet the work they do to protect our most vulnerable populations is as critically important," he said.