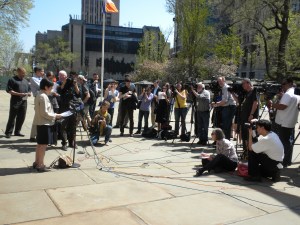 Tourists scouring Canal Street for cheap imitations of designer bags would face a police crackdown under legislation introduced today by Council Member Margaret Chin.
"Our laws are incomplete in that they only target the supply of these items and not the demand," Chin said after introducing a bill that would make buying knock-offs a misdemeanor punishable with a $1,000 fine or a year in jail. "The bottom line is that counterfeiters need to sell to do their job, and we need a law in place to punish buyers for supporting this illegal trade."
Chin ominously noted that the counterfeit trade helps to support terrorism, child labor and international crime in addition to hurting Chinatown's local designers and artists, bemoaning the neighborhood's reputation as the "counterfeit capital of this country." She estimated that fake products cost the city about $1 billion annually in tax revenue.
"It does not support the tourism business in Chinatown, it does not support the tourism business in New York City," she said in response to a question about whether the law might deter visitors. "We have creativity, we have designers here. We want to highlight the positive aspects."
Paul Cantor, a resident and member of Community Board 1, mentioned "turf wars and minor riots" set off by the underground industry, in addition to "having them use buildings as urinals." Wellington Chen, the executive director of the Chinatown Partnership, cast the law as a new beginning for the neighborhood.
"I really want the community to take note that just like postwar Japan where everything was a knock-off, this will be a transitional period for Chinatown and our community," Chen said. "Who said that our proud community needs counterfeits?"