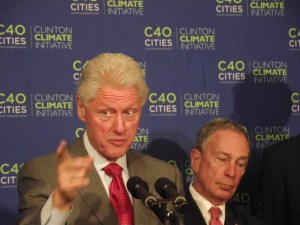 Bill Clinton and Michael Bloomberg announced the merger of their environmental groups, launching a partnership both men say could jump start environmental initiatives throughout the United States, and possibly, the world.
"What we want to do, by merging our efforts here," said Clinton, standing inside Gracie Mansion next to Bloomberg, "is to hammer home the way you can change the way you consume and produce energy in cities, in a way that is good economics."
The former president and term-limited mayor have teamed up on climate issues before, but the joining of forces announced today formalizes the arrangement. The Cities Program, which is part of the Clinton Global Initiative, and the C40 Cities Climate Leadership Group, which Bloomberg chairs, will gather its members in Sao Paulo for a three-day conference starting on May 31.
"Now, there is almost nobody in denial about the reality of climate change," said Clinton. "But still people are not sure we can meet these ambitious greenhouse gas reduction targets by 2015 and maintain [economic] growth."
When asked about critics who do not believe climate change is affected by human behavior — or even happening in the first place — the former president said it's moot, since there's such an economic benefit to the green initiatives.
"If you can prove it's good business, it's irrelevant," he said. If the green initiatives become "a growing element of the economy, then the dispute over climate change becomes irrelevant."
Clinton also went on offense against the nay-sayers.
"There's been a well-financed campaign against it by people who are ideologically opposed to it for whom it's not in their financial interest," he said.
Information pushed by that "well-financed campaign," according to Clinton, gets traction because "a lot of the mainstream media is so concerned about being accused of being liberal, they say, 'Well, some people say this.' "
Clinton stuck around, answered several questions (including one about what Times Square was like when he first visited it in 1964), and left.
Before he did, he noted there's one thing in particular he'd like to see happen in his lifetime.
"One of the goals before I die is to see every landfill in every big city in the world close, like the one that is in the opening scene of Slumdog Millionaire," he said.