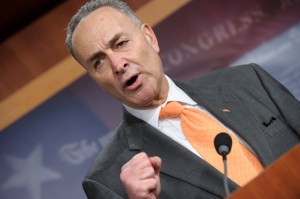 Club for Growth president Chris Chocola is denouncing Chuck Schumer, calling the senator a "job-killing protectionist" in response to Schumer's recent criticism of China's economic policies.
"Americans benefit from free trade," said Chocola in a press release this morning. "It forces companies to innovate and compete leading to greater variety, lower prices, and better quality goods and services."
Club for Growth, which advocates and promotes free-market principles, has a long history of denouncing politicians who the group believes are not fiscally conservative enough. (The Club recently declared Donald Trump the "King of Protectionism" in response to his call for a 25 percent tax on Chinese imports.)
Schumer has been outspoken lately in his criticism of China's economic policies following a trip to Beijing earlier this month; and yesterday he declared his intention to unveil "a bunch of legislation" that would encourage the country to play nice with the U.S. by accelerating the appreciation of the yuan.
In the past, Schumer tried to take similar legislative action when he sought to impose a tariff on Chinese imports, which the Club for Growth calls "protectionist."
"Chuck Schumer likes to talk about how he's looking out for the middle class," said Chocola. "But he wants to hit Americans in all income brackets with a massive new sales tax on the goods they buy every day."
UPDATE: A Schumer spokesman emailed a response from the senator. "It is a betrayal of free-trade principles to let China continue taking unfair advantage of the rest of the world's economies. Every major American company that I met with in China told me that China does not trade fairly and their protectionism against foreign firms is getting worse. There is no bigger step we can take to promote U.S. job creation, particularly in the manufacturing sector, than to confront China's currency manipulation and I intend to do just that."