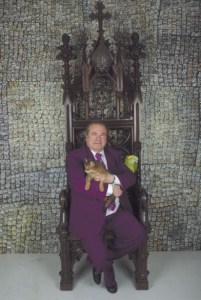 Man of many mansions Hunt Slonem has garnished a new far West Side space.
The Southern painter-cum-interior designer has taken 22,500 square feet for 10 years at 509 West 34th Street, past 10th Avenue. The four-story industrial building over a parking garage has a few columns and windows on three sides, offering the perfect canvas for his famed Gothic interior styling.
"Some people are great in an industrial space," said Carri Lyon of Cushman & Wakefield, who represented the tenant. "He can transform any space," she said, citing his work on an unremarkable 25-year-old office installation on 10th Avenue, formerly "one of the most horrible spaces in New York City."
Not so of this loft space in a Sherwood Equities building, which was occupied by a prop house. "He works on large canvases and he has a lot of furniture. He needed more space," Ms. Lyon said. "This just came up. It was serendipitous."
Mr. Slonem will relocate from 545 West 45th Street, as it seems that the far West Side is being increasingly won by creative tenants. Just downstairs from Mr. Slonem's new space, another artist is opening a 22,500-square-foot studio.
lkusisto@observer.com
Update: We should note, that while Mr. Slonem's unparalleled eye is much in demand, his decorating services are not currently for hire.