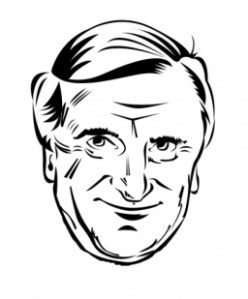 Monday was extremely busy–but don't worry, everyone was safe; Commissioner Kelly presided at one of the central tables in the Grill! Across the room, Governor Paterson was eating fruit salad with Bill White.
Peter Brandt was also here, looking very sharp in a gray pinstriped double-breasted suit–no wonder he's back with his gorgeous wife! The whole week has been a Condé Nast bonanza; on Thursday we had Si Newhouse eating with Leonard Lauder, and on Monday CEO Chuck Townsend lunched with former Vogue publisher Tom Florio. And nearby Richard Beckman was eating with Alan Grubman!
Dolly Lenz was here, sharing crudités with two dark-suited gentlemen. She came in last week with Howard Lorber, but it was so crowded I had to have them wait 15 minutes for a table! They must have been discussing something important because they were drinking a really good red wine, which is a lot to handle in the middle of the day.
The prince arrived at his usual time, but he didn't like any of the tables that were available so he just shook his head and turned around and left. I think he went shopping. He was wearing a suit the color of split pea soup with a pale green tie and matching pochette–like a leprechaun!
Bethenny Frankel finally came but left the camera crew at home. She and her husband, Jason Hoppy, celebrated their one-year anniversary with a very quiet romantic dinner in the Grill–just the three of us, hee-hee. They drank pink Champagne, and she was all elegance in a cashmere sweater dress and pearls–but don't worry, I reminded her about the ice bucket and made sure it was available at all times.
Daphne Guinness was here on a date with her boyfriend, Bernard-Henri Lévy. I think he was celebrating his New York Times article about how he was responsible for rescuing all the Libyans. Ms. Guinness' blond hair looked like a crown, and she was wearing the most amazing shoes–they had no heel! Speaking of sartorial splendor, later this week I'm going in for a fitting for my starring role in Arbitrage at Michael Reslan's atelier. I can't wait–Richard Gere is going to look so shabby next to me in my fresh suit!