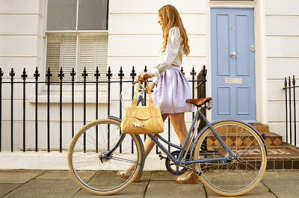 To show the city's we-own-the-roads drivers that it was not unfairly favoring cyclists, the NYPD launched a bicycle crackdown at the start of the year. Reports abound of huge jumps in ticket counts, and the police, with nothing better to do as their ranks continue to dwindle, have taken to stalking cyclists around Central Park, looking for any opportunity to hand out summonses.
Well, watch out ladies, because the police are pursuing purse-flaunting pretties, as well, according to the Post.
Claire Lecomte du Nouy, the dean of students at Nightingale-Bamford (talk about entitled!) had the audacity to bike around with a bag on her handlebars, which got her pulled over and summons'd:
When she protested, she said the officer comforted her by adding, "Don't worry, you can go to court. The judges always throw these out." And it turns out, that's exactly what will happen.

The summons listed her offense as "carry articles on bicycle," but it was only after she returned home Monday evening and did a little research that she learned the city has no such zero-tote policy.

"Not a single person knows about this thing," she said.

Police brass– who are currently pushing a widespread crackdown on unlawful cyclists–say the summons should have never been issued.
Soon they'll start handling out tickets for pedalling in heels. What's a spokes-model to do!