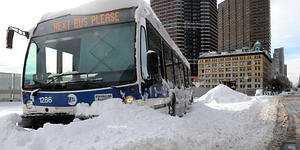 Remember all those City Council hearings dedicated to uncovering all that went wrong with the Bloomberg administration's response to the winter blizzard?
Today they have finally borne fruit as the City Council passed a series of bills designed to improve the city's weather emergency response. Among their improvements includes a requirement that the Office of Emergency Management publish an annual report on their snow removal efforts, developing borough-based snow removal plans and the development of an OEM protocol for snow emergencies, which many were surprised to learn they did not have.
There is not included in the legislation however a requirement that the mayor notify the city when he is out of town, which Council Member Peter Vallone pushed for.
The mayor's office has indicated that he will sign the legislation. Full details below:
City Council Votes on Comprehensive Series of Bills To Improve Emergency Weather Response in NYC
Following Eight Public Hearings on Local Response to the December 2010 Blizzard, Council to Vote on Legislation Focusing on Planning, Preparedness, Coordination, and Communication
New York, April 6, 2011 – At today's Stated meeting the members of the City Council will vote on seven pieces of legislation to improve future severe weather responses in New York City. The Council will also vote on a package of green bills that will make our City's roofs more energy-efficient.
EMERGENCY WEATHER LEGISLATION
"The City Council heard nearly 30 hours of public testimony from more than 100 different people on the city's response to the December 2010 Blizzard," said Speaker Quinn. "Over the course of these hearings we demanded answers from the highest levels of both the Bloomberg Administration and the Metropolitan Transportation Authority; we listened to the stories – often tragic – of New Yorkers whose calls for help during this emergency went unanswered; and most importantly, we got significant and meaningful feedback from hundreds of New Yorkers who know their communities and their organizations best. Using this feedback, the Council developed several pieces of legislation to improve future emergency weather response in New York City. Thank you to everyone who took the time to participate in this important fact-finding process, especially to the Committee Chairs who traveled far and wide to listen to public testimony."
Focused on improving planning, preparedness, coordination and communication, the Council will vote on seven pieces of legislation relating to emergency and severe weather conditions:
Develop and Publish an Annual Snow Response and Preparedness Report – The Office of Emergency Management (OEM) would be required to review the previous year's snow removal efforts. Specifically, OEM must review each previous year's snow response, including the performance of emergency management offices and agencies, and propose new measures where problems are identified.
Develop Borough-Based Snow Removal Plans – The Department of Sanitation (DSNY) would be required to establish borough-based snow removal plans that would include:
o Defining, designating and publishing the breakdown of primary, secondary and tertiary streets and making this information available on-line;
o Improving snow removal at bus stops and curb cuts located at primary street intersections;
o Improving communication between residents, elected officials, on-the-ground workers and appropriate Sanitation personnel; and
o Compiling and publishing an inventory of snow management equipment and personnel by community district.
Create a Registry for Snow Removal Volunteers – Require DSNY to assist non-profit and volunteer organizations to establish registries of snow removal volunteers and locations where, due to physical limitations of property owners, volunteer snow removal is needed.
Create Weather Emergency Protocols – Require the Office of Emergency Management to establish formal protocols for responding to emergency weather conditions,including when to activate emergency support functions and when to request additional aid from the state and other jurisdictions.
Improve Communication of Changes to Government Services – Establish a system, available online and through other media, to notify New Yorkers of disruptions to government services, such as garbage collection, parking rules, and transportation services.
Improve the 311 System – Establish high-call volume protocol for emergency circumstances and require that all callers requesting services or lodging complaints are provided with call tracking numbers.
Strengthen Ambulance Response – Resolution to call on the State to allow for greater participation of volunteer and private ambulances during emergencies and simplifying volunteer ambulance participation in the 911 system.
"After hearing from hundreds of residents throughout the City concerning the infamous December 2010 snow blizzard, the Council's Sanitation Committee have come up with comprehensive and detailed recommendations meant to improve citywide weather response in the future," said Council Member Letitia James, chair of the Sanitation and Solid Waste Committee. "I believe that these actions address the weak links in communications and preparedness. I am confident that today's action will help prevent catastrophes like the December 2010 blizzard from reoccurring in our communities."
"The system in place prior to the Blizzard of 2010, failed us," said Council Member Peter Vallone, Jr., chair of the Public Safety Committee. "The City Council will now push for some hard and fast rules to ensure that the same mistakes are never made again."
"The Christmas Blizzard of 2010 revealed the City's failure to plan and prepare in the event of a severe snow storm," Council Member Elizabeth Crowley, chair of the Fire and Criminal Justice Committee." These new bills will force the Administration to provide open and definitive direction about how the city will prepare for and act during, and in the aftermath, of a serious storm. Furthermore, these bills are intended to improve communication between the city and concerned New Yorkers."
"These proposed recommendations for snow response are essential for our communities to make sure there isn't a repeat of the December 2010 Blizzard. I am proud that my first piece of legislation is in response to this epic storm. The events in December's storm showed that 311 simply does not have the capacity to handle the volume of calls likely to occur in an emergency situation. My intro is part of a greater packet of legislation that will ensure the mayhem in December 2010 will not happen again. I am looking forward to these recommendations being implemented," said Council Member Jumaane Williams, chair of the Oversight and Investigation Committee.
"The city's response to the December 26th blizzard was completely unacceptable," said Council Member James Vacca, chair of the Transportation Committee. "People who live on so-called tertiary streets, which are most New Yorkers, waited for day
s before seeing a plow, and it was only after the City Council convened a series of oversight hearings that the Administration admitted its mistakes and put forth a reform plan. Today's legislation goes even further, arming New Yorkers with an unprecedented amount of information and holding city agencies accountable so that the taxpaying public gets the basic services it deserves."