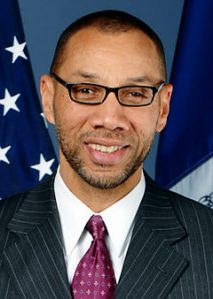 Lee Saunders, a boisterous national labor leader, interrupted a speech he was giving in midtown this morning to read from a piece of paper handed to him by an aide.
"Cathie Black is resigning?" he said, somewhat unsure. The crowd jumped to their feet, applauding and cheering.
That's pretty much how the rest of New York City greeted the news that Mayor Bloomberg was ending the three-month tenure of Ms. Black, which was highlighted by verbal sparring with parents, repeated departures of top aides and among the worst approval rating of any New York City official ever.
Taking over for Black will be Deputy Mayor Dennis Walcott, who's been with Mayor Bloomberg since the Wall Street entrepreneur first stepped inside City Hall in 2002. Before that, he was president of the Urban League (which got fund-raising help from all sorts of people, including the rap group Public Enemy).
Thin, with thick-framed glasses, Walcott is a resident of southeast Queens and has, for years, quietly guided the administration's education policy. Often he's leaning against a wall in the back of a room, observing the crowd when the mayor speaks, taking in the public's reaction to every utterance. He's also been on a non-stop tour of city schools, often meeting with students and parents.
In many ways, Walcott is the complete opposite of Black.
Although both call New York City home, Black spent years as a magazine publisher and sent her children to boarding schools out of state. Walcott was a kindergarten teacher and comes from a family with generations of publicly educated students.
But what exactly will change at the nation's largest public school system with Walcott's appointment?
According to the chairman of the New York City Council's Education Committee, Robert Jackson, not much.
"I'm pleased with the appointment of Dennis Walcott," said Jackson, who quickly added, "whoever serves, no matter who they are, is going to be doing the mayor's bidding. If not, they wouldn't be in place."
Indeed, Walcott has been an instrumental in shaping the administration's education policy (expanding charter schools, ending social promotion, etc.).
Walcott stands "wherever the mayor stands," said Jackson. "What changes is you have someone, who, in my opinion, listens a lot more" and "someone who has been through the same type of experiences that parents have gone through themselves."
In a 2007, when another schools chancellor, Joel Klein, faced mounting criticism, Walcott took a philosophical approach to all the incoming bad news.
"I think, one, criticism is always in cycles," he said. And, "there will always be critics."