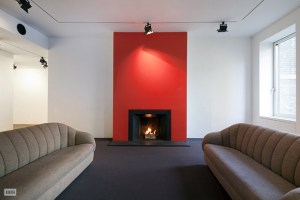 "At the height of his career in the 1960s and `70s, Mr. Bennett represented a distinctly American look as it gained confidence in the face of more dominant European styles," The Times wrote in an obituary of New York designer Ward Bennett in 2003. His industrial-chic confections included homes for David Rockefeller, Jan Wenner and a lofty converted townhouse co-op at 18 East 81st Street. Now even the most fashionable Europeans are succumbing to his work.
Renaud Dutreil, a two-decade veteran of French politics who now heads up the North American operations for luxury goods giant LVMH—he rides his bike to work!—has just bought a penthouse in the appropriately Beaux Arts-fronted building, along with wife Christine Dutreil. The couple paid $2.1 million, according to city records.
According to Brown Harris Stevens listing brokers Mary Fitzgibbons and Russell Miller, the five-story limestone co-op building "is the perfect canvas for Bennett's work with its high ceilings, expansive rooms, and great scale spanning the top of both houses. The result is the ideal uptown penthouse loft. Every room affords enchanting views of the stunning architectural detail of the surrounding buildings."
The seller is a conceptual artist who moonlights as a branding consultant, Cynthia McVay. She lists an address in D.C. on the deed, and, according to a LinkedIn profile, is now director of innovation at the Peace Corps. Groovy. She put the home on the market in July for $2.75 million, according to StreetEasy, and cut it to $2.495 million in October. So call this a sample sale.
Read past Manhattan Transfers here. >>