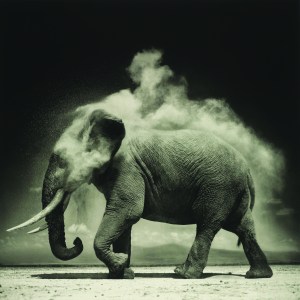 Auctions are nothing if not ruthless. Last week, Sotheby's, Christie's and Phillips held multimillion-dollar spring photography sales of a combined 644 images. The results offered clues, as the art market continues to thaw from the 2008 recession, as to which contemporary photographer's stocks have risen, whose have fallen and whose are holding steady post-crash. In a surprising market move, prices for works by a handful of auction virgins took off; demand for photographs by the rising stars of perhaps 5 or 10 years ago, meanwhile, like Iranian artist Shirin Neshat and Spencer Tunick, famous for staging photos of crowds of nudes, headed in the other direction.
"It's not that the younger clients are purchasing the new photographers–we have stable collectors going after fresh new talent," said Vanessa Kramer, worldwide director of photographs at Phillips. "The price point is more accessible–you can buy a really important photograph for $3,000."
In a shift in taste, the photographers who sold well often seemed to feature either striking, ethereal imagery or wildlife themes. Dutch photographer Erwin Olaf specializes in sleek, lonely interior scenes (think Edward Hopper meets Apple). He sold three of five works for sale–impressive for a basically unknown name. His Grief, Troy, an image of a man leaning against a window in despair, brought in $11,500, well above the high estimate of $7,000. And the price of a single work offered by artist Dash Snow, who died tragically in 2009 of a heroin overdose, also soared.
All told, the three auctioneers sold about four out of every five works offered and raised more than $16 million. (The biggest prices were made by classic photographers; Christie's got $80,500 for a 1950 Irving Penn, for example.) The totals were at least half a million dollars higher than last year at every house, though Philips de Pury, which specializes in more contemporary photography, showed the most improvement.
Wildlife and fashion photographer Peter Beard was a breakout star. Born in 1938, he's far from a newbie, but "he's getting stronger and stronger. This is just the beginning for him," said Phillips' chairman, Simon de Pury. Mr. Beard's works brought in a total of almost $950,000 to the three houses last week.
But British photographer Adam Fuss, who had work added to the collections of the Israel Museum and the Whitney Museum of American Art a few years ago, didn't make a splash. One Fuss piece, Woman Weeping From My Ghost, returned to Phillips for the second time since 2009–but now with an estimate $2,000 lower. (It went for $11,250, just above the low estimate.) The New York-based artist and former waiter at the Metropolitan Museum of Art specializes in carefully constructed photograms. Several of his works sold at the low end of their estimates, and two were passed over entirely "We don't have to offer work again–we'll only do it if we think it's important," said Ms. Kramer. German photographer Loretta Lux also didn't sell strongly. The artist, who specializes in dreamlike, creepy images of children, was regularly selling at auction in excess of $30,000 five years ago.
Photographs by Ms. Neshat, known for her provocative images of Muslim women and a superstar within the art world, performed unevenly. Perhaps it was too much of a good thing. Sotheby's sold one Neshat a few thousand dollars over estimate–Rebellious Silence (1994) sold for $18,750–but Phillips, who had several, had mixed results. "One thing that you need to be careful [of] with recent work is having too much of it on the market," said Christopher Mahoney of Sotheby's. "It undermines people's assurance of the specialness of the material."
British filmmaker-turned-wildlife photographer Nick Brandt, relatively new to auctions, saw both of his works up for sale bring well over their high estimates. Mr. Brandt filmed Michael Jackson's "Earth Song" music video in Kenya, and now works in East Africa. His Elephant with Exploding Dust, a majestic black-and-while image, sold for $59,375, well above the presale estimate of $35,000.
editorial@observer.com