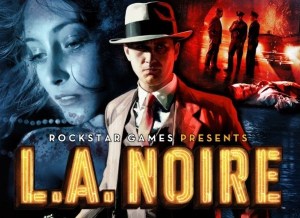 "There's a whole new sphere of storytelling happening in different places," said Geoff Gilmore, chief creative officer of the Tribeca Film Festival, onstage at the "world premiere," as he put it, of a video game–the 1940s detective yarn L.A. Noire.
Then, as the audience looked on, a Rockstar Games employee took the stage, perched in a director's chair with a controller in hand, and started furiously pressing buttons. Five minutes later, the lead character, played by Aaron Staton of Mad Men, was prodding a naked female corpse. There was a car chase, during which our hero took out a few pedestrians. And a series of interrogations of suspects who lied so ineptly one expected them to start saying, "Humina-humina-humina."
Good stuff!
The Transom asked Jeronimo Barrera, Rockstar's VP of product development, whether the company's involvement with the festival was a way to attract more high-caliber actors.
"People already do want to work with us," he replied, "because we make fun, cool shit." –Dan Duray