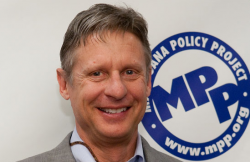 Gary Johnson walked down 37th Street, musing about the nature of success.
"I have this whole notion that I talk about all the time, that life really is a journey," he said. "It's not about a destination, and you darn better well like the process or change it and there is one person in control and that's you."
Mr. Johnson may sound like a desert state spiritualist tripped out in turquoise and crystals, but, he is in fact a construction magnate, former two-term governor of New Mexico and now a G.O.P. candidate for President of the United States.
He had come to appear on a panel at the Union League Club about "finding more meaningful endeavors in your life."
"That's the journey part of it," he said while trying to find a spot of March sunshine. "Life is a journey and part of that journey is that anything that can go wrong, will. So if life is a destination you are destined for failure because things get in the way."
Mr. Johnson's aides had just begun to leak to Politico that a presidential announcement was in the offing, slated, in fact for April 15, Tax Day, in New Hampshire. Mr. Johnson now leads a PAC called "Our America Initiative," which forbids him from speaking directly about a presidential run.
"I don't want to get sideways with it, but if you were going to run you would have to think that you would announce in a fairly short amount of time," he said. "Speaking hypothetically, time is drawing near. Truly!"
Mr. Johnson is one of those Republicans who are beloved by magazine journalists for their willingness to depart from party orthodoxy, and he has received warm profiles in The Atlantic and Salon. He favors decriminalizing marijuana, legalizing prostitution, ending all foreign entanglements and vastly reducing the size of the federal government. If that sounds a lot like the profile of perennial Republican contender Ron Paul, it is not a comparison that Mr. Johnson shies away from. He says that he was Mr. Paul's most high-profile endorser in 2008.
"I supported Ron Paul, I support Ron Paul and I agree with the things he says. But," Mr. Johnson add, "I am not Ron Paul. I am not Ron Paul. We have different personalities."
He is running, he says to give Republicans a choice in who they want to be their spokesman. The early returns have not signaled that they want that spokesman to be Mr. Johnson. A recent poll gave him only 2 percent of the Republican vote, less than even Mr. Paul. Still, he is forging ahead. His time in New York, besides Union League panels, is punctuated with meeting with donors and appearing on not one but three shows on Fox.
So far, Mr. Johnson, who lives on the side of a mountain in Taos and is preparing to marry his girlfriend of three years some time in the next couple of months, has resisted the Republican field's reflexive snarling about anything Obama-related. In fact, he refuses to say anything negative about any of his opponents.
"I have this theory that we are all in search of a state of Zen and that very simply is just being in the present," he said, "Back to life's a journey-if you enjoy where you at, man, how can you ask for more in your life."
That's a very healthy attitude for a politician, The Observer remarked.
"Yea, it is," he said.