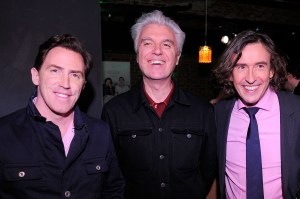 We were already some ten minutes into a Q&A session for The Trip at a the Tribeca film festival Thursday, when the blonde PR woman on stage did a sort of salute in the lights, straightened and pointed at the attendee who asked Steve Coogan and Rob Brydon to do their Michael Caine impressions, which are famous on YouTube. The stars stiffened. They looked at the stage below them. This audience had just watched their largely improvised, earnest meditation on fame and aging. How could they want impressions?
"I can feel things starting to sag now, so let's just get things over with," Mr. Coogan said, and advised Mr. Brydon to Caine for no more than ten seconds. Mr. Coogan counted down, three, two, one and then sped through his own, ending "'She was only sixteen!' There." He paused and he turned to the smiling PR rep. "Do you, do you want a try?"
"Oh!" she said, taking a hint. She announced that the pair could only take one more question.
"You never know what's going to catch on with people," Mr. Brydon said of the Caine clip at the after party in the basement of the Chelsea Hotel. "I suppose it's playing with personas and stuff, and playing with Steve's persona."
"I love New York," Mr. Coogan told the Transom gamely. "I wish I got enough work to support my living here. I don't."
Mr. Coogan plays himself in The Trip and Tristram Shandy, we pointed out, and it seems like he's at least cornered the market on the "Steve Coogan as sad clown" roles.
"I know it does, yeah," Mr. Coogan laughed and shook his long hair. "But it's cooler to be depressed."
Earlier in the party we saw Mr. Coogan talking with David Byrne, who was in the audience during the screening. Mr. Coogan explained that he's personally aquainted with Mr. Byrne, sees a parallel between his work and the Talking Heads' music — and also dated his niece.
Leaving the party, the Transom spotted Mr. Bryne unlocking his bike and complaining to Cindy Sherman about how a church had peppered it with fliers.
"A quote?" he said in his singsong voice. "It was hilarious! I had tears in my eyes!"