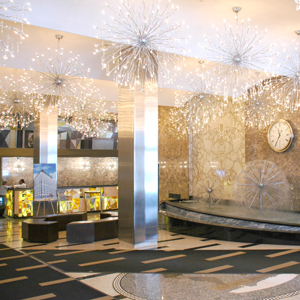 The mystery midtown media tenant that wants to fill SL Green's 100 Church Street has been revealed as Sirius XM Radio.
The Observer has learned last week that someone was coming to fill the empty space, which would amount to more than 250,000 square feet, or 180,000 square feet of contiguous space. SL Green bought the little building that couldn't no more from the Sapir Organization last January. For more than a year, it was said to be the emptiest building in Manhattan, until HealthFirst signed a 172,000-square-foot lease in the summer. Niche Media also occupies a modest space.
A snazzy media tenant like Sirius would, however, lend some much-needed pizzazz to the building once famed for its collection of octopean chandeliers. Ever since the city's largest commercial landlord took over, it's been the victim of a renovation that's done little to appease its critics.
Another source confirmed Sirius' interest in the building, but said the deal isn't done. We've put out our own tentacles, but so far no more details are forthcoming. The landlord's brokers, a Newmark Knight Frank team of Brian Waterman, Jimmy Kuhn, John Fanuzzi, Hal Stein and Lance Korman, declined to comment.
lkusisto@observer.com