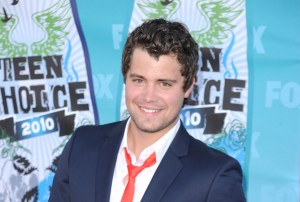 The sun is shining, the garbage is blossoming and the rats and the blue-shirted Greenpeace lobbyists–both of which seem to gravitate toward the Chipotle on the corner of 44th and Ninth, near The Observer building–are becoming more visible and robust. It must be spring, which seems to have finally arrived in New York only six long, wet, frigid weeks later than Punxsutawney Phil predicted. (For the record, we didn't believe him for a second–anything that will costar with Andie MacDowell and goes by the alias "land-beaver" is not to be trusted.) But hey, we'll take it, even late–which, incidentally, is also the attitude we're hoping the I.R.S. will adopt with regard to our tax returns.
On Friday, Britain's favorite tabloid prude, "Wait-y Katie," will tie the knot with Prince William, ending the royal hand-wringing and ushering in a new batch of commemorative teacups. Also arriving later than expected will be Levi Johnston's long-anticipated Sarah Palin tell-all, Deer in the Headlights: My Life in Sarah Palin's Crosshairs. (That is not a joke; our joke title would have been something like I Was Told There'd Be Hush Money or maybe Battle Hymn of the Reluctant Baby-Daddy: A Tripp Down Memory Lane.) The groundbreaking tome will be released by Touchstone Publishing in September, just before the mayoral election in Wasilla, in which Mr. Johnston, who famously posed nude for Playgirl clutching his (non-euphemistic) hockey stick, is a candidate. That is also not a joke. In related news, we can now confidently answer that yes, Jon Meacham, there is a hell, and in it, even virile reality television stars are allowed to hold public office.
Speaking of which, Donald Trump is making a visit to New Hampshire this week–his first to a primary state–a move that seems to indicate that he is not playing chicken with the presidential primaries, or, if he is, that he's not planning on yielding anytime soon. Sadly, the same cannot be said for the Knicks, who handed the playoffs to the Celtics in a four-game sweep, leaving many fans not feeling so, forgive us, 'Melo. Oh, well. At least we'll soon have the Nets, who'll land at their stadium near ProCro in 2012.  "ProCro," if you haven't heard, is the new moniker for areas of Crown Heights that wish to be regarded, for purposes of inflated rents and broker fees, as Prospect Heights. Brooklyn has already suffered the indignities, visited upon it by overzealous real estate brokers, of BoCoCa and GoCaGa (neighborhood nicknames that sound like artisanal coffee beans and overactive bladder medications, respectively), so we're glad to hear that State Assemblyman Hakeem Jeffries is putting his foot down–albeit belatedly–and developing a bill that would require new neighborhood names to be approved by the City Council and the mayor, and would even seek to punish brokers for making up new names. And if you're interested in buying an apartment in PaSloPro, there's a bridge in DumBroHei we'd like to sell you.
While we're on the topic of suspicious propositions, The Times' Horatio Silva received a suspect missive last week from someone claiming to be the aide to the minister for culture and ethnic affairs in Libya and demanding that Muammar el-Qaddafi's wardrobe receive a retrospective at the Met in 2013 (we're all for it, if only for the Met Ball theme "Libya and Louboutins"). The best part of the letter, though, was the claim that Michael Jackson ripped off Colonel Qaddafi's military style in the early '80s, "to great chart success." This posthumous fashion throw-down is almost as comically late as Friendster's decision to pull the plug on itself, finally, after more than six years of being completely obsolete. According to reports, it plans to re-brand and shift its focus to Asian users. As if Tokyo didn't have enough to worry about these days.
But it's not all bad. The spring weather is making us feel kind, perhaps even charitable. Maybe during our lunch break, we'll even let the dreadlocked young blond woman with the clipboard talk to us about whaling. At least it will remind us of the ocean, and that summer's just around the corner.