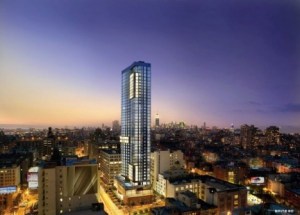 Yet another diminuitive newcomer is coming to Hudson Square. Trinity Church is selling the ground lease to another piece of its prized Hudson Square puzzle for a commercial development site.
Trinity, quietly one of the wealthiest private landlords in the city, is marketing a 99-year ground lease at 92 Sixth Avenue, on the northeast corner of Grand Street, which allows for roughly 22,600 square feet of development on a 4,300-square-foot lot, Eastern Consolidated's Eric Anton, who is spearheading the sale, told The Observer. "This is arguably one of the hottest areas in the city," he said. "Trendy hotels have recently opened nearby including the James Hotel directly across the street, the SoHo Grand, The Thompson Hotel and Trump SoHo. They are home to David Burke Kitchen and Quattro, two of New York's hippest restaurants. This is an excellent opportunity to secure a firm foothold in a dynamic area that continues to thrive and grow in popularity."
Hudson Square has been a hot area for development, though several larger hotel developments ran into recession-era bumps. Gary Barnett's Extell had purchased four lots from 180-186 Sixth Avenue, in hopes of developing them, but recently sold the parcels for a tidy profit. Nearby, Mr. Barnett had also planned to build a hotel at 68-74 Charlton Street to rival the Trump Soho; and another project (not one of Mr. Barnett's), at 330 Hudson Street, has moved in fits and starts. With an influx of tourists, the small site would offer an ideal opportunity for a restaurant or retail space.
lkusisto@observer.com