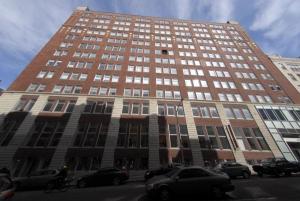 It's no Hat Creek Cattle Company and Livery Emporium, but a penthouse atop Columbus Circle will simply have to do for RHI Entertainment.
The producers of Lonesome Dove, who have received in total 105 Emmies and 15 Golden Globes, have landed atop the Winter Organization's 423 West 55th Street. "The owner had to get creative and move really rapidly," said Newmark Knight Frank's Stephen Schofel, who represented the landlord along with Daniel Hassett and Joshua Gosin. "They really wanted this tenant and the Winter Organization is modifying the space under a very, very tight time schedule. They expect to be in the space in about a month."
The asking rent for the 24,400-square-foot space on the entire 12th floor was $38 a square foot. The floor was previously occupied by the Tarragon Corporation, which went into bankruptcy. Creative agencies, architects, ad agencies and medical tenants all looked at the space.
The Winter Organization completely redeveloped the building in 2005 from an old industrial building. Related and Viacom both have space in the building.
Eric Kahn of Norman Bobrow & Co. represented the tenant.
lkusisto@observer.com