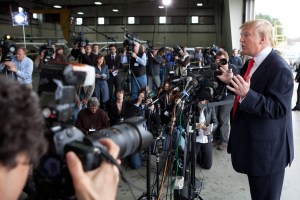 A gaggle of reporters met Donald Trump this morning when his helicopter landed in New Hampshire and the real estate tycoon-turned-reality TV star took credit for pressuring President Obama to release his long-form birth certificate.
"I'm really honored and I'm really proud that I was able to do something that nobody else could do," Trump said.
Then he seemed ready to move on from a controversy that he had done much to stoke.
"Hopefully when I sit down to interviews people don't start talking about birth certificate, birth certificate, like they've been doing. So I feel like I've accomplished something really really important and I am honored by it," he said.
Trump held court for nearly 30 minutes, and proves unsurprisingly adept at ducking questions.
Note: Trump is the father in-law of the Observer's publisher, Jared Kushner.
Take a look:
Visit msnbc.com for breaking news, world news, and news about the economy