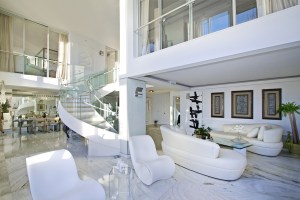 Nothing says "light and airy" like a house that feels like it could float away any second. Twenty-one South End Avenue, which L. G. Fairmont calls an "infinitely spacious waterfront duplex palace," features marble floors, 17-foot windows and glass enclosures around the kitchen and dining areas.
There are also three bedroom suites upstairs, including a master bath with a Jacuzzi tub and steam shower. For entertainment, there's a "huge counter island," a fireplace to gather around, and vast views of the Hudson.
Living in a crystal palace may be your dream come true, but to keep the dream alive you'll want to avoid breaking your house.