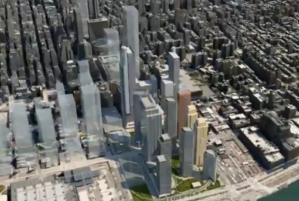 Related's Steve Ross is determined to get his Hudson Yards mega-development built. The developer began demolition work earlier this year, and a slew of new renderings has been trickling out online. He also boldly declared he would secure at least 3.5 million square feet of leases this year. One of those could be with an old friend, Time Warner.
The media giant teamed up with Related over a decade ago to finally redevelop the old New York Coliseum on Columbus Circle, and The Journal now reports that Ross is trying to woo the company

away to be his anchor tenant at Hudson Yards.
Time Inc. and HBO, both divisions of Time Warner, lease more than two million square feet of space in Manhattan that expires in 2017 and 2018, according to research firm CoStar Group Inc. It is unclear if those divisions would be part of a move to Hudson Yards. But the timing of the lease expirations would allow for it. Related has said it could deliver the first phase of the development by 2017.
The paper points out that with rising rents in midtown, the 1 million-square-foot commercial condo Time Warner bought on the cheap at its eponymous development could be sold off for a nice profit. There is the fact, though, that the far West Side remains a veritable dead zone, though with Coach rumored to be interested in 600,000 square feet, as well, it could add a lot of cache to the project–or at least some cute neighbors.
And if that does not convince the suits at Columbus Circle, maybe a swanky new promo video will. Someone named MrSamuels posted this flythrough video of the planned project last week (Curbed spotted it Friday) with some downright awful midi music attached. It's like playing Sim City on your Super Nintendo. Silly soundtrack aside, it does offer the best views yet of what Related has planned, and, with all those ghost buildings shown to the north and east, just what a big future the far West Side has in store.