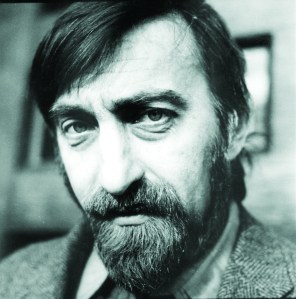 Where most authors' shelves are lined with books, a wall in Jonathan Baumbach's living room is devoted entirely to videocassettes, many of them bootlegged copies with yellowed, handwritten labels. An occasional film critic–for such outlets as the now defunct Partisan Review–Mr. Baumbach is best known for his fiction and is often grouped with postmodernists like William Gaddis, Donald Barthelme and Robert Coover. He's also famous as the father of the acclaimed filmmaker Noah Baumbach. The father, however, is modest about the influence he might have had on his son's career.
"I did take him to the movies a lot when he was small," Mr. Baumbach said. "I broke him in. Noah didn't have to go to film school because I took him to so many movies."
Mr. Baumbach's new novel, Dreams of Molly (Dzanc Books, 154 pages, $15.95), is explicitly influenced by a lifetime of moviegoing. A series of numbered dreams, the book tells the story of a blocked writer who embarks on a series of adventures in order to rescue his ex-wife, who may or may not have been kidnapped. It's comic, almost zany in tone, with a plot that is suspenseful even as it resists interpretation; reading it feels a bit like watching a David Lynch film. Or as Steven Gillis, Mr. Baumbach's publisher, put it, "Jonathan Baumbach is what would happen if Edward Albee and Woody Allen had a love child and that child grew up to be a writer." (Never mind, of course, that Mr. Baumbach is roughly the same age as Mr. Allen and Mr. Albee.)
Dreams of Molly is a sequel to Mr. Baumbach's third novel, Reruns, which was originally published in 1974, but was reissued in 2005. In giving readings for the reissue, Mr. Baumbach found that he still enjoyed the voice of the book and was inspired to revisit it.
"Reruns has the ambience of movies," Mr. Baumbach said. "My first two novels before it were more conventional. I broke through with Reruns, and after that I kept breaking through."
While Reruns might have inaugurated Mr. Baumbach's singular fictional voice, it marked the end of his relationship with commercial publishing. The novel was rejected 32 times before Mr. Baumbach published it himself, joining his friend Peter Spielberg and a host of other Brooklyn writers to found Fiction Collective, an author-run publishing house. Over the next two decades, Fiction Collective published more than 40 emerging writers, several of whom later became well known, including Russell Banks and Mark Leyner. Today, Fiction Collective survives as FC2 and is no longer based in New York City, instead distributing its books through the University of Alabama Press.
Michael Martone, an FC2 author who helps run the press in its current incarnation, credits the original Fiction Collective with the preservation of a 1960s avant-garde aesthetic. "FC folks were mostly formal innovators, though some were surrealists and fabulists. They represented an alternative model of writing and publishing that resisted the norming that was happening in the expanding university writing program."
Mr. Baumbach originally conceived of Fiction Collective as a stopgap, something to tide him and his friends over until literary fashions changed and commercial publishers once again accepted their work. Instead, he found the publishing world increasingly hostile to experimental fiction, and ended up publishing exclusively with Fiction Collective and FC2 through the mid-1990s. His collaboration ended in 2002 with the publication of B, which was rejected by FC2, ironically, because it wasn't radical enough.
Since then, Mr. Baumbach has sought refuge with niche presses like Dzanc Books. But he's had bad luck. Two of the presses he's previously published with, Low-Fidelity Press and Rager Media, have since folded. Rager Media's demise was particularly heartbreaking, as it occurred shortly after the publication of Mr. Baumbach's 2007 novel YOU or the Invention of Memory, a book he still considers his best.
"Rager asked me if I wanted the remaining 1,000 copies of my book," Mr. Baumbach said. "I had to pay the shipping fees."
In a last-ditch effort to revive YOU, Mr. Baumbach enlisted the services of literary publicist Lauren Cerand. Although Ms. Cerand rarely takes on books after their release date, she was so charmed by YOU that she started a blog called the New You Project, which she used as a platform to give away 365 copies of Mr. Baumbach's novel. The blog was originally intended to last one month, but Ms. Cerand kept it going for six, in part because of the attention YOU received, but also because the site became a forum for writers and readers to discuss the vagaries of corporate publishing. Mr. Baumbach contributed an essay that was part manifesto, part thumbnail sketch of his up-and-down career, and included sentiments such as "Commercial publishing tends to court literary work that is a thinly disguised variation on the recognizably artful" and "This literary moment's persuasive illusion is that fewer works that challenge the reader's skills are being read."