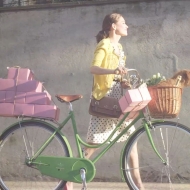 The city is still wheeling with the news that Kate Spade has launched a nostalgic line of mint green bicycles. Now Ms. Spade is toodling into some bigger downtown digs.
One can no longer enjoy a stroll through the Brooklyn Flea or a breezy brunch in the Village without being garotted by a pink patent purse or a delightful plaid diaper bag. But nothing will win the hearts of BroBettes and enrage the masses more than those delightful vintage cycles with, we suspect, a maximum speed of 5 miles an hour.
With such successes–not to mention excellent revenues, according to parent company Liz Claiborne–it's no surprise that Ms. Spade is nearly doubling her office space. The designer, who is currently located in Flatiron's 48 West 25th Street, wants to expand from around 40,000 square feet to 75,000 square feet, according to sources.
No stuffy midtown digs for this sprightly company (founded in 1996): Kate Spade is staying below 34th Street, a source said. That's a challenge, however, with tech, advertising and design companies all vying for a very few hip downtown spaces with large floorplates. Twitter, for instance, has been hunting in the area for months, and is now seriously considering some square digs at 340 Madison.
We've heard Ms. Spade has in mind several possible locations, but for now the details of the search are as closely guarded as the new fall line. Her brokers, David Falk and Jason Greenstein of Newmark Knight Frank, could not be reached for comment.
lkusisto@observer.com