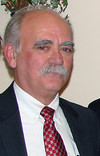 As talk circulates around Trenton about the state's troubled pension system and the administration's attempts to shore it up, state records show at least one senior staffer in the Christie administration collects a pension while also pulling in a six figure public salary.
Cabinet Secretary Lou Goetting currently earns $130,000 as a member of Christie's inner circle, while also collecting a $7,327 per month pension, putting his total yearly take at nearly $218,000.
Goetting has received the pension since 2003 after fourteen years as Vice President of Administration at the University of Medicine and Dentistry of New Jersey and as both Deputy and Assistant State Treasurer before that.
Goetting's situation is entirely legal and the Christie-confidant is far from the only state government employee to take advantage of the law, but he may be the most prominent.
A spokesman for the Department of Treasury said Goetting is not earning credits toward another pension while employed with the governor's office. Goetting is allowed to continue collecting the pension despite the return to public service because as a governor's appointee he is not eligible for the Public Employees Retirement System – from which he currently collects his pension – and instead would be placed in a defined contribution plan.
According to the law, Goetting can either contribute to the defined contribution plan or continue to receive his PERS pension and Goetting chose to continue receiving the pension. In general an employee may return to government service and continue collecting a pension if the new position is covered by a different pension plan.
Last week, PolitickerNJ reported that Essex County Executive Joe DiVincenzo had retired from his post in August, and through a loophole in the state pension system was able to be reinstated to the post, collecting both a salary and a pension.
The revelation has caused an uproar among union officials and lawmakers who say DiVincenzo, who has called for pension reform, is a hypocrite. For his part, DiVincenzo defended his pension, telling PolitickerNJ he had earned it and was doing nothing illegal.
A spokesman for the administration said Goetting's situation is far different from DiVincenzo's because he retired from a different government post.
"It is an inappropriate apples and oranges comparison," said administration spokesman Michael Drewniak. "To criticize someone in this category is to minimize the value of any retiree who leaves public employment and later returns as a gubernatorial appointee in a non-PERS position.
"Lou Goetting is an invaluable member of the administration, with an incredible level of expertise in state, county and local government budgeting and administration and public finance stretching back decades. The Governor called him out of retirement for that reason and we are grateful to have him."
But not everyone agrees that former public employees should be entitled to both a pension and a salary. Republican State Sens. Jen Beck and Steve Oroho have introduced legislation that would require the suspension of pension benefits for any employee who re-enters public service making more than $15,000 per year.
The legislation, introduced in February, has been referred to Senate State Government, Wagering, Tourism & Historic Preservation Committee, but has not yet been heard. Neither Beck nor Oroho returned calls for comment.