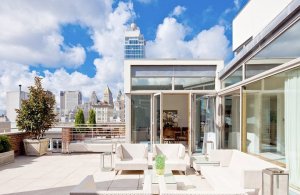 Normally, death is poison to real estate. Normally.
The five-unit cast-iron condo in Soho where Heath Ledger took one too many sleeping pills in January 2008 sold out within a matter of weeks of coming on the market, in November 2010. Bloggers and even brokers did not hesitate to bring up the connection at 419 Broome Street, and now the soaring triplex penthouse has closed for $17.82 million, according to a March 25 deed filed in city records.
Corcoran's Darren Kearns, who had the listing

with Jim Farrah, said the buyer was a finance type, as were three out of the four other buyers in the building (the black sheep was a European who bought the infamous fourth-floor loft). This seems like a lot of penthouse for a vanilla banker, The Observer pointed out. "It was a very substantial vanilla banker," Mr. Kearns replied.
His favorite feature about the condo, which was revamped in 2003 by Roger Marvel Architects, is its mix of "really traditional, prewar-style Soho loft on the first floor-original columns, 18-foot tin ceilings, exposed brick-and a much more modern space on the two built-out floors above."
The penthouse features 7,600 square feet of interior space and 3,400 feet of outdoor space across three terraces. "It almost feels like you're at a mid-century home in Palm Springs," Mr. Kearns said, "where there is no real division between inside and out." It had been the most expensive Soho home on the market, asking $20 million.
As if this was not enough star power, the loft even has its own movie…
Read past Manhattan Transfers here. >>