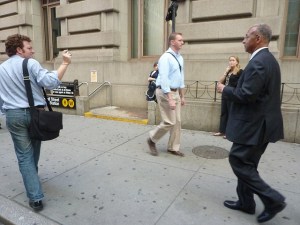 The Daily News City Hall Bureau Chief, Chief Adam Lisberg, is departing for the top editing job at Manhattan Media, publisher of City Hall News and The Capitol. The Daily News confirmed the Gawker item about Lisberg's departure, which had been making the rounds online.
(Lisberg fills the vacancy created when Edward-Isaac Dovere decamped to Politico.)
Lisberg, in a brief interview with me, denied saying the "cheap" quote that appears right after him attributed to him in the Gawker item. "I never spoke with Gawker and would never say that," he said.
With his new job, Lisberg moves from the hard-scrabbled world of tabloid journalism into the roomier pastures of a thoughtful periodical.
City Hall News and The Capitol churn out spacious pages with lots of room for lengthy, investigative stories; just ask the Working Familes Party. (City Hall News, comes out every two weeks; The Capitol, once a month.) The publications also host more public events with newsmakers than practically any other news outlet in New York.
Lisberg, a general assignment reporter with the Daily News before taking the City Hall beat (and Sunday column that goes with it), says he's glad for the change of venues.
"I think one of the strengths of City Hall News and The Capitol is that they're not snarky, they're not slanted," he told me in a brief interview just now. "They don't do cheap shots. It's serious and substantive and they do fair work. There's not enough places for long-form, serious journalism that doesn't necessarily slam one side or the other, but really presents issues."
And in true, feisty, adoration, his long-time colleague, blogger Celeste Katz wrote to wish him well, and to warn Lisberg that she is already planning to "clea[n] your clock!" [fixed]