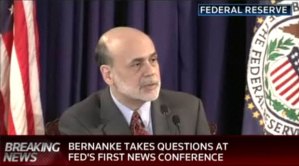 Mark it: an important moment in American history today, not even counting the time a reality television star's consistant trolling forced the American President to present evidence of his citizenship. Rather, today was the very first U.S. Federal Reserve press conference, featuring big-money-cheap-date Ben Bernanke! What great revelations did we learn? What spiked-bat questions will a fierce financial press produce?
"The Federal Reserve has been looking for ways to increase its transparency for years, and we've made a lot of progress," Mr. Bernanke responded to a question about the difference between facing the press and facing Congress. For the record, he was speaking to the revolutionary innovation that is holding a press conference. He later attributed the push for transparency to Fed Vice Chair Janet Yellen, who's clearly poked around on the issue before. While CNBC expressed concerned about the chair's chair, noted feminist John Carney pointed out the gender disparity in reporting, and Sarah Palin expressed concern over your focus, there would be only one true indicator of exactly just how well this thing went, and Zero Hedge was glad to provide it:
That's a score of 0.62% gold thumbs up, for those counting at home. Other reviews?
Tough crowd.