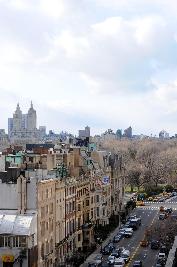 Two years ago, as the city cowered, wondering if there could be a future after Lehman Brothers, the daughter of the company's old boss was "moving aggressively to sell her five bedroom co-op" at 79 East 79th Street, according to The Times.
Christine Packles and her husband Aaron, a managing director at Merrill Lynch, had bought the place in June 2007 for $9.75 million, and they put it on the market in January 2009 for $12.95 million. A bold flip, especially as the sky was falling, which led to that "aggressive" price cut two months later, to $9.95 million.
Yet try as the Packleses might, this bull turned out to be another bear, and a plodding one at that.
The couple have finally sold their full-floor, 11-room

spread, and, despite all that waiting, they have had to settle for selling at a loss, hitting an even $9 million, according to city records. The buyers are Joseph Samuels, a Merill Lynch alum, and Erica Samuels, the co-founder of cleverly named four-year-old art consultancy Art & Advisory.
Just off Park Avenue, 79 East 79th Street is an attractive if unremarkable prewar co-op with one unit to a floor. The ninth-floor home has views of the Park down the block and an especially large dining room–perfect for art parties. The living room and library boast fireplaces, and there are four bathrooms. "This offering represents a rare opportunity to acquire a classic pre-war home in meticulous, just renovated condition, with beautiful hardwood floors, new windows, full air conditioning, custom fitted closets," writes Brown Harris Stevens' Kathryn Steinberg in her listing; she had a co-exclusive with Corcoran's Wendy Sarasohn.
The Samuelses had been living at 11 East 68th Street, according to the deed, where rents command $35,000 per month for a six-bedroom. Meanwhile, the Packleses list an address one block east of their old home, at 175 East 79th Street. The co-op's two-bedrooms trade for around $2 million, and Carter Horsley calls the building "pleasant." Put another way, not aggressive.
Read past Manhattan Transfers here. >>