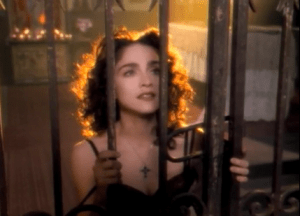 Britain's Mirror tabloid reports that Madonna, who periodically shops religions like a first-semester college student unsure of her major, is readying to cut ties from Kabbalah. In the wake of reports on mismanagement of her Kabbalah-centric charity Raising Malawi, Madonna is jumping on Opus Dei–years after The Da Vinci Code made it the vogue villainous cult!
Opus Dei's website–yes, even fringe, ultra-demanding prelatures have user-friendly web presences–provides a message form for those interested in joining the church, though we're sure Madonna moved in more protected circles (she was said to have spent the day "with priests," who hopefully have absolved her the "Like a Prayer" video). The site also indicates that we may soon hear Madonna proselytizing the conservative, mortification-driven sect: "it would be impossible for Opus Dei to carry out its mission if members were not open about their involvement."
So many unanswered questions here–will Demi and Ashton be lonely in their red string bracelets? Will Madonna, like the monk in The Da Vinci Code, practice mortification? (That delightful website indicated that "Opus Dei encourages small sacrifices like carrying out one's duties conscientiously, putting others' needs before one's own, and finding a smile in annoying circumstances" but that celibate members do use "cilice and discipline" on themselves. Another question that probably doesn't need to be asked–Madonna's starting at the ground floor, as a financially-contributing supernumerary, rather than going celibate, right?) And is she behind the times with committing to Catholicism or, with the debut of Lady Gaga's disciple-checking Mary Magdalene homage "Judas" headed for our Easter baskets, just on the cutting edge?
ddaddario@observer.com :: @DPD_