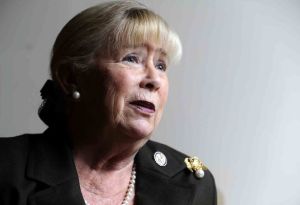 The office of Long Island congresswoman Carolyn McCarthy just sent out word that she just completed a (for her, at least) record-breaking fundraising haul in the first quarter of the 2012 election cycle.
"The outpouring of support from both New Yorkers and across the country has just been enormous," McCarthy said in a statement. "I'm touched by the way that my supporters, from coast to coast, are stepping up and helping me continue my mission to fight for the issues that I've always spearheaded and championed in Congress. We know that this could be a challenging election cycle — but I've never been one to shy away from a fight. That's what I'm doing now, and that's what I've always done."
McCarthy's first quarter fundraising totaled $214,600, a particularly impressive number since one of her largest contributors, lobbyist Paul Magliocchetti, was sentenced to 27 months in prison for making illegal campaign contributions. McCarthy returned his money.
McCarthy first came to Congress after her husband was murdered by a deranged gunman on the Long Island Rail Road. A longtime fighter for tougher curbs on guns, she has achieved a lot of notoriety this year in the wake of the Gabby Giffords shooting, calling, on President Obama to ban the sale of high-capacity magazines.
McCarthy received a spirited challenge last year from Republican Fran Becker, and many in Long Island have assumed (for years, frankly) that she is considering retiring.
McCarthys' future may hinge on how the lines are drawn during redistricting. If she finds herself in a less hospitable district, or even sharing a district with neighbor Peter King, she will at least have the resources to wage a serious campaign.