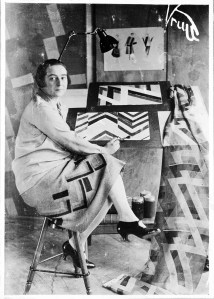 Sonia Delaunay was not a designer for the faint of heart. Her name was on programs when the music was by Stravinsky, the films by Man Ray and the plays by Tristan Tzara. André Breton once stepped onstage to break the arm of an actor wearing her costume. Her early garments consisted of "poems in motion" featuring imbricated circles-within-circles and zebra-stepped silk embroidery of mushrooming jewel-tone triangles. Artistically, her world was the one about which André Derain wrote in 1905, "We treated colors like sticks of dynamite, exploding them to produce light." Her iconoclastic abstraction was exciting: Her clothes could get you hurt.
Sonia Delaunay's life spanned nearly a century (1885-1979), and she worked in textiles, theater, film, fashion, interiors, drawing, ceramic, neon, posters and painting. "Color Moves: Art and Fashion by Sonia Delaunay," at Cooper-Hewitt, National Design Museum, shows 300 pieces, highlighting her influential textiles, thanks in part to the recent discovery of her fabric swatch books, found above the family washing machine by an heir to the department store that commissioned Delaunay's textiles designs. Experiencing her oeuvre in this show is like finding an artifact in the laundry room–the life of an innovative 20th-century modernist in a pile of fabrics, blouses, dresses, hats and bathing suits.
Born in Ukraine and raised by her uncle in St. Petersburg, Sonia Terk went to study art in Paris. To remain in Paris against the wishes of her family, she married her openly gay gallerist; shortly after, she met the painter Robert Delaunay. "You don't want her–I do," is what one friend recalls he told her husband. Sonia and Robert married in 1910, two months before the birth of their son, and were partners and creative conspirators until Robert's death, in 1941.
The Delaunays in the 1910s were interested in the perception of color. The simultaneous contrast of colors–the idea that color placement was responsible for seemingly duller or brighter colors, a concept introduced by chemist Michel-Eugène Chevreul in the 19th century–influenced French painters from Delacroix to Seurat. Simultanéisme, the Delaunays' take on Chevreul, looks like vivid, often circular abstract color combinations and is as visionary as it is scientific.
Delaunay's patchwork dresses are abstract paintings for the body. Worn for dance performances and films, her early garments explore how colors intensify with motion. In 1925, Delaunay showed her experimental fashions in the Exhibition of Modern Decorative and Industrial Arts. She put her work in a Paris storefront, the Boutique Simultané. Orders came, and her label, Maison Delaunay, employed seamstresses and embroiderers. They made clothes for the newly modern woman who swam, drove and went to parties in dresses made of poems and paintings. This woman might have worn Delaunay's Driving Cap (1924-8), which takes the Chevreul color circle and turns it into a silk-and-wool-embroidery-on-cotton-canvas target for the head in motion; or the blue, pink, gray and yellow halter knitted wool Bathing Suit (1928), which renders the body an abstract canvas diving into the ocean.
After 1925, Delaunay's clothing makes you want to be the woman who wears it: bold ikat-y stripes, hand embroidery, jewel tones, inventive design. Shawl (1925-30), an interlocking two-tone, hand-knitted wool blouse, had several viewers of this exhibition ready to walk out in it. Her initiated clients included the wives of Modernist architects Walter Gropius and Marcel Breuer. Delaunay's contemporary artistic inheritors might be Sara Lucas and Tracey Emin with the 1993 London Shop; Andrea Zittel and her utopian smocks; or Polly Apfelbaum, who works with abstract color installations and textiles. This period of Maison Delauney's innovative and beautifully made clothing experiments would close with the stock market crash of 1929.
Delaunay found work designing textile patterns from the 1930s through the 1960s for Metz & Co., the Dutch department store. Gerrit Rietveld also designed for the firm–his iconic painted wood Red and Blue Chair (1917) and the oak and brass Zig Zag Chair (1932-4) are on display. Today, the angular lines and primary-color facings of this furniture and of Delaunay's geometric patterns look as IKEA as they do De Stijl or Orphist; their radical forms became standard stuff. Delauney lived on Rue St. Simon in a white-painted, light-filled studio with a high sleeping loft, an apartment unusual for a 50- and 60-year-old woman to inhabit in the 1940s that, like her textiles, looks normal to us today. Designers like Rietveld and Delaunay subtly and thoroughly altered the details of our daily lives; this is their lasting legacy.
Today, on the Metz & Co Web site the denim brands bear utopian names–True Religion, 7 for All Mankind–but aspire to do nothing more than put you in a pair of pricey pants. It is worth remembering a time when a designer and painter like Delaunay worked to conflate the spheres of art and life, and conspired to change the world.
editorial@observer.com