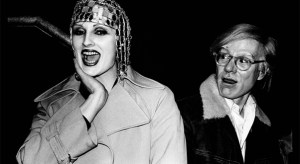 The insanity that overtook New York in the late '60s and early '70s–hard-drug home deliveries, sexually permissive underground watering holes like Studio 54 and Max's Kansas City, churches converted into gay bars and a haze of pot smoke and paparazzi bulbs–may be viewed, in retrospect, as Oz on helium. But there were no more publicized exponents of this abattoir of self-indulgence and instant tabloid fame than the unfortunate freaks who fell into the clutches of Andy Warhol. Now comes Beautiful Darling, an extraordinarily sad, touching and compassionate documentary by James Rasin about transvestite Candy Darling, the louche Warhol superstar whose perfumed vapor glowed briefly before it was extinguished by the man who exploited her in cheap, cheesy trash like Flesh and Women in Revolt, and by a public that grew weary of her flamboyance and moved on.
But before she died of cancer in 1974 at age 30, Candy Darling made the most of her famous 15 minutes. Born Jimmy Slattery in a suburban tract house in Massapequa, Long Island, to middle-class parents in a boring community of conformity, this skinny misfit, who worshiped Marilyn Monroe and wrote fan letters to Kim Novak (she answered!), seemed preordained to run away and reinvent himself. Manhattan was, of course, his salvation. It was an island of escape, stoked by drugs and dreams, but it was a bad time for drag queens. Hiding their beards with pancake makeup, they were harassed by cops, not to mention a magnet for bullies and psychos. But there was always a place at the table at 33 Union Square West, where Andy Warhol's Factory welcomed society's rejects with a Polaroid. Living from hand to mouth, sleeping on people's floors, bunking in digs at the Chelsea Hotel, taking hormones so she could walk in the street without fear, Candy saw her acceptance in the celebrity underworld spread like mayonnaise. Warhol promised to make her the next Lana Turner. It never happened, but he paraded her around as one of his entourage, one that came to resemble Tod Browning's Freaks. With cherry lipstick, mink eyelashes and manicured fingernails covering her Adam's apple, she was photographed by everyone from Richard Avedon to Robert Mapplethorpe. Tennessee Williams almost rescued her with a small role in his Off Broadway Small Craft Warnings (his producer stopped speaking to him), but when the play's run ended, everyone deserted her, leaving her in despair. Lost in indentity confusion, never sure of what part to play, she was neither a woman nor a man. She was her own invention, and a sex change would have destroyed her creation. Even while dying, she posed in the sheets with a long-stemmed red rose, seeing it as a link to Monroe and Harlow–dying young, blond and beautiful. Nobody claimed her ashes.
Woven into the story is the firsthand involvement of her comrade and fan Jeremiah Newton, who lived with her cremated remains for 30 years before burying her in a rural cemetery in upstate New York. The film employs archival footage, Candy's diaries (read in voice-over by Chloë Sevigny) and exhaustive interviews, and the cast, living and dead, includes Fran Lebowitz, Dennis Hopper, Peter Beard, Jane Fonda, Truman Capote, John Waters and a surprisingly spry fellow Warhol superstar, Holly Woodlawn, who contributes valuable candor. The movie doesn't say what happened to Viva, Ultra Violet or Joe D'Allesandro–but unlike Edie Sedgwick, Jackie Curtis and other Warhol discards, Holly Woodlawn is a healthy survivor.
It happened only 40 years ago, but it seems like another planet. And yet Candy Darling stands, forgotten by almost everybody, as a symbol of lost hope, a displaced innocent who spent every waking minute desperately daydreaming about making a dent in the get-famous business, and managing, for a few minutes of pop glory, to succeed.
rreed@observer.com
Beautiful Darling
Running time 86 minutes
Written and directed by James Rasin
Starring Holly Woodlawn, John Waters, Jane Fonda
3/4