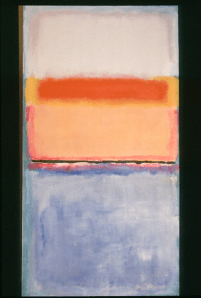 "The engravings on the bench are kind of sassy," said Virginia "Jinny" Wright. She was discussing a Jenny Holzer bench–until recently in her possession–that she'd donated to Barnard's Morningside Heights campus.
"At the age of 82, I'm thinking about where some of these pieces should end up, and I thought Barnard would be the perfect spot for this one."
The bench contains engravings of Holzer's truisms-hard to imagine, perhaps, in the home of any octogenarian beside Ms. Wright. Ms. Wright's granddaughter Ada Potter, who is currently studying Visual Arts at Barnard, called the sculpture "perfect for Barnard, because of its feminist themes and the fact that Jenny Holzer stood for a whole generation of women artists in the seventies."
Ms. Wright, whose daughter and granddaughter are art aficionados as well, witnessed modern art taking shape in the midcentury. "It was an interesting time," Ms. Wright reminisced of her post-college years (she graduated in 1951). "Sidney Janis was representing all the important artists, although my role was the lowest of the low. I was the gallery assistant–I typed letters, opened the mail, answered the phone–definitely not a high-profile job, but it was so interesting to see how the art world worked in those days.
"Contemporary art is hot now, but it wasn't back then. Jackson Pollock and de Kooning were important, but their work wasn't selling. They received critical attention, but no one was collecting them. They would sell for $1,000 to $5,000. It seemed that they were nothing compared to the European modern artists."
And boy, were those artists frustrated! "Jackson Pollock would come to the gallery, and he was often pretty drunk. That was his way. He was kind of angry, and not the kind of person that was easy to approach."
Perhaps Ms. Wright's proximity to the scene inspired her first big art purchase: Then 22 years old and just out of Barnard, she indulged a youthful impulse to buy a Rothko. "I thought maybe I could swing this kind of a purchase, but Rothko didn't sell to just anyone." Ms. Wright reminisces with a mixture of wistfulness for the simpler days, and satisfaction at having had such an eye for art in her 20s. "You had to agree to be interviewed by him. In those artists' minds, it wasn't about money. It was about doing right by their work, having their work go into the right hands. More idealist, and less commercial."
Regarding whether Rothko was as much of a brooder as his works suggest, Ms. Wright says "I think he was difficult, but not toward a 22-year-old girl. It turned out to be a wonderful experience. He was very kind and fun to talk to."
That Rothko painting (#10, pictured here) is now in the Seattle Art Museum, near her home, where Ms. Wright has been on the board for decades.
"Jinny's legacy at Barnard is truly exceptional," said Barnard President Debora Spar in an email. "With her gift of a Jenny Holzer bench–Barnard's first major piece of artwork–she is…helping to establish Barnard's place in New York City's vibrant art culture".
She just returned to New York to attend Barnard's Annual Scholarship Dinner and her granddaughter's graduation in May. The Jenny Holzer sculpture is expected to be installed by then.
ssamuel@observer.com