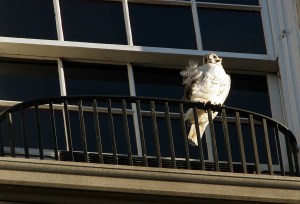 Ah, spring, with nary a blossom or a bunny rabbit in sight. Instead we have live videos of nesting predators to stream into our cubicles. The hawks deliver freshly killed rats to each other and preen and have mean love affairs. It's really cute.
The nicest, most domestic pair are the subject of the New York Times reality web show "Hawk Cam": Bobby and Violet have built their nest on Washington Square Park, on a window ledge outside the office of John Sexton, president of New York University.
Then, on the Upper East Side, there's the love triangle between Pale Male, Pale Beauty, and Ginger. The New York Post reported (headline: "An egg-stra marital fling") that first PM was with Ginger, but then he started hanging around with PB, who built a nest and laid some eggs that Ginger has now straight up homewrecked. So much drama.
A third hawk couple, in Riverside Park, has devoted itself almost entirely to the task of incubating. The blog UrbanHawks.com reported last week that, "The female sat on the nest and almost nothing happened."