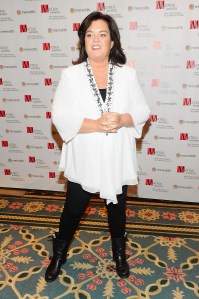 The invitation to the 2011 Matrix Awards, which salute women in various communications fields, announced with more than a hint of glee that this year's master of ceremonies would be Sandra Lee of Albany, N.Y. They were counting their tablescapes before they'd hatched.
"I know what you're thinking," More magazine editor Lesley Jane Seymour noted at the start of the luncheon on Monday at the Waldorf. "'Hey, you're not Sandra Lee! You're not dating Governor Cuomo! You don't have a TV show! And you'd be correct."
Rosie O'Donnell was on hand, however, to honor her publicist, Cindi Berger, chairman and CEO of PMK*BNC Public Relations. The Transom asked Ms. O'Donnell who should replace Katie Couric when the anchor leaves her gig at CBS Evening News.
"I don't know if it needs to be a woman, but it'd be nice," she said. "I'd take Donna Brazile."
"Let's let Les Moonves make that decision," Ms. Berger chimed in.
During her presentation, Ms. O'Donnell noted that being her publicist had not always been the easiest job. Then the actress let the crowd in on one of Ms. Berger's bits of career advice: "Never get a lesbian haircut," Ms. O'Donnell said, to peals of laughter.