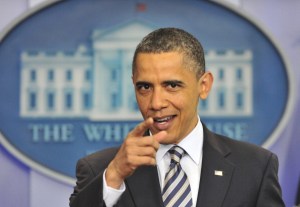 Saying that the issue had become too much of a distraction, President Barack Obama addressed the news media and the American people today from the White House after releasing his long-form birth certificate earlier this morning.
Obama said that the nation faces crippling problems, but added, "We're not going to be able to solve our problems if we get distracted by sideshows and carnival barkers."
In a statement posted on the White House's blog, communications director Dan Pfeiffer said that the White House originally released what the State of Hawaii legally considers a birth certificate in 2008.
"In 2008, in response to media inquiries, the President's campaign requested his birth certificate from the state of Hawaii. The state sent the campaign the President's birth certificate, the same legal documentation provided to all Hawaiians as proof of birth in state, and the campaign immediately posted it on the internet. That birth certificate can be seen here (PDF).

When any citizen born in Hawaii requests their birth certificate, they receive exactly what the President received. In fact, the document posted on the campaign website is what Hawaiians use to get a driver's license from the state and the document recognized by the Federal Government and the courts for all legal purposes. That's because it is the birth certificate. This is not and should not be an open question.
The White House's decision to release the long-form certificate came just as Donald Trump, who has made Obama's legitimacy as president a crucial part of the early days of his campaign, heads to the early primary state of New Hampshire.
"Today I'm very proud of myself, because I've accomplished something that no one else has been able to accomplish," Trump told reporters there. "Our president has finally released a birth certificate."
The full birth certificate is below:
---