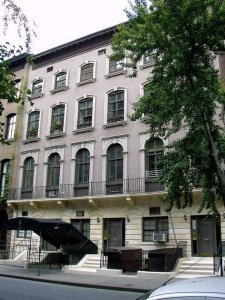 A year ago, Nate Berkus went on Oprah, as he often does, to give decorating tips to viewers. This time, though, it was a rare look into his own New York City apartment. Though Mr. Berkus did not say, any eagle-eyed real estate maven would have recognized the windows as that of Jean Nouvel's incomparable 100 11th Avenue.
Mr. Berkus had relocated to New York to launch his eponymous show for Ms. Winfrey's new cable network–sorry, Chicago, you're just too boring, and now Mr. Berkus agrees. In January, he put his gold coast home in Chicago on the market, and now he has bought one on the Village's gold coast, a three-bedroom duplex at 19 West 9th Street.
SLIDESHOW: Step inside the Berkus abode. >>
The home came on the market for $3.295 million in January and went into contract less than a month later, according to StreetEasy. Was there a bidding war? Maybe! Mr. Berkus paid $3.35 million for the 3,000-square-foot, super-wide home.
"This renovated Greenwich Village duplex has it all," Corcoran brokers Sara Gelbard and Paul Kolbusz boasted in their listing. "Dramatic and spacious living areas, bedrooms with double height ceilings and skylights, five wood burning fireplaces, 3 ½ baths, two windowed home offices and private outdoor space."
Even if the place may not need much work, there is still plenty of fun ahead for Mr. Berkus. A previous listing–the duplex first came on the market in December 2008 and languished there for a year and a half–notes that the 1,000-square-foot roof can be developed. It's triplex time, baby.
The sellers, according to the deed, are Jason Rubinstein and Robyn Malin. Mr. Rubinstein's father founded Anne Klein and pioneered fashion licensing, a business his son and daughter-in-law have gone into with their company Product Lounge. Maybe they can set up a deal to market some Nate Berkus bathroom tiles and vinyl siding.
SLIDESHOW: Step inside the Berkus abode. >>
Read past Manhattan Transfers here. >>