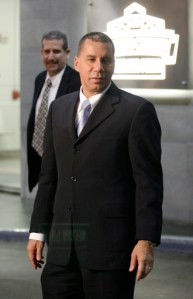 Gov. David Paterson is slated to deliver the commencement address at Paul Smith's College in the Adirondacks next month, and he told The Politicker that he hopes to warn the grads not to get discouraged in the unforgiving real world they are about to enter.
"What I want to convey to them is, unfortunately, some of the realities of life are such that you will be discouraged sooner or later.  And in this case it will be sooner," he said.
Paterson said that he intends to cite his political career as an example, when he longed for over two decades to have the kind of decision-making ability that he inherited when he became governor in 2007, only to find once he got there that his abilities were extremely limited by the dire fiscal shape the state found itself in.
I kind of knew by October or November, by six months into office, that it was not likely that I would be coming back. It wasn't a foregone conclusion, but I could see that you upset people, that you cut health care, you cut education, doing layoffs, taxing the rich, I did it all. At least I was an equal opportunity offender. I pissed off everybody. And sometimes as difficult of times many of these students are going to face, there are always opportunities. So if there is no job there is still education. There are still libraries. They are free. There are still ways to make oneself relevant. So I want to be encouraging.
Paterson also said that after his experience as governor it was unlikely that he would seek another office.
"It's not a burning desire. What would I run for?"